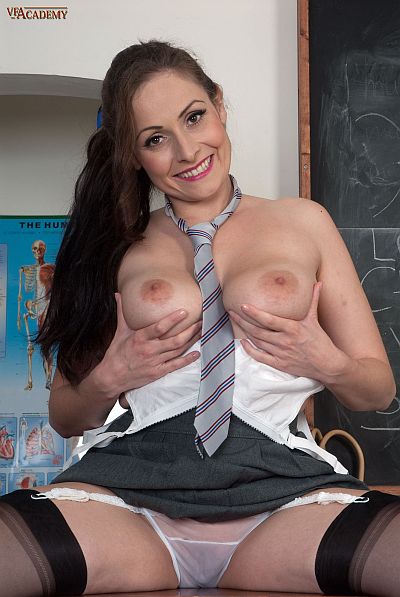 Sophia was sitting alone in the detention room feeling very bored with nothing to do, when our horny Janitor paid her a visit to keep her company.
'The girls did tell me you sometimes get your cock out, don't you? I've never been in here before, so I'll just have to see, won't I?' Sophia remarked, having heard about the janitors reputation from the other girls.
Sophia catches him trying to look up her skirt as she sits in her chair, and says, 'Did you want to have a little look up my skirt, Mr Janitor, it looks like you want to have a look?' So feeling a bit naughty she opens her legs to give an him a quick upskirt view of her sheer nylon panties. 'Well, I haven't got anything else to do so I may as well give you a little look,' she adds, standing up and fully lifting her skirt to give him a close up view of her pantied pussy, nicely framed by her stockings and suspenders.
'Go on get your cock out for me, and I'll let you look at my panties while you give it a rub,' Sophia said, leaning against the desk with her legs apart and her skirt hiked up about her waist. Then leaning over the desk, Sophia lifted the back of her skirt to give him a perfect view of her ass while she felt up her cheeks through her sheer panties.
Stripping out of her blouse, skirt and bra, Sophia took down her knickers and offered them up to the janitor so he could have a good sniff of her fragrant pussy. Then kneeling on the desk with her ass in full view and stockinged legs spread wide, she began rubbing the exposed lips of her naked cunt.
'Imagine if the teacher knew I was on the desk doing this,' Sophia said, her fingers teasing her clitoris and massaging the lips of her juicy quim. 'I wasn't naughty earlier, but since I'm in here I may as well be naughty!'
Masturbating with her legs wide open so the janitor could see everything she was doing, Sophia gave her throbbing pussy a good rub and brought herself off to an intense climax.
Get our superb Vintage Flash newsletter each week - all the latest model info, updates, set preview pics and more!