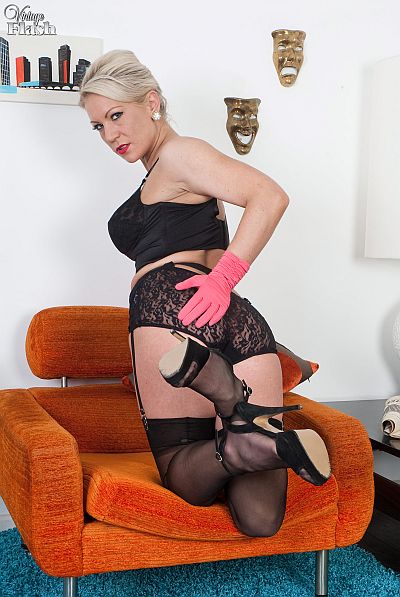 Ashleigh Embers is having a relaxing afternoon, but she wants to know what would help you to relax? Maybe a little striptease show will help you unwind, then you can join Ashleigh and have a lovely wank while you watch her masturbate in her nylon stockings!
Ashleigh begins by pulling back the hem of her dress and drawing attention to the metal suspender clasps attached to the tops of her black nylon stockings. Wanting to tease you fully, she describes what underwear she is wearing under her dress and pushes her gloved hands between the tops of her fully-fashioned nylon stockings and the flesh of her naked thigh.
Standing, Ashleigh pulls the zip down the back of her dress and letting it fall to the floor she uncovers her sexy black underwear consisting of bra, full cut panties, stockings and suspenders. Then she removes the bra and turns to slowly tease her lacy panties over her arse and down her seamed stockinged legs.
'I'm ready to take that hard cock of yours now,' Ashleigh says, bending over and spreading her legs to give a view of her cunt and arse. 'Maybe you could grab my hips and push me onto that hard cock and slide it deep in there!'
Sitting back on the chair with her legs parted, Ashleigh spreads the lips of her cunt to show you where she wants your cock. Then kneeling with her buttocks and the puckered ring of her arse in full view, she reaches between her thighs to rub her clit and encourages you to masturbate with her as she cums.
Get our superb Vintage Flash newsletter each week - all the latest model info, updates, set preview pics and more!