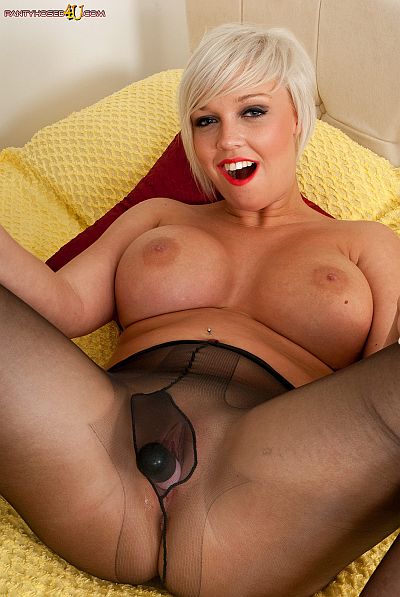 Horny blond sexpot Scarlet is waiting for you on the bed in a blue slip and sexy black, sheer to waist pantyhose, underneath which she is not wearing any panties.
'I can feel the nylon rubbing against my pussy,' Scarlet says, her hand rubbing her sex concealed behind the reinforced gusset in the crotch of her tights. 'It feels so good and it's making my pussy feel so wet!'
Pushing her hands down the front of her hose, Scarlet spreads the lips of her cunt and opens the petals of her pink, moist labia, which is clearly visible through the nylon screen of her sheer tights.
'I'd love you to lick my pussy through them, flick you tongue all over these nylons and taste my pussy,' she says, rubbing her fingers over her cunt encased behind the tight nylon fabric.
Pulling her pantyhose down, she inserts her favorite pink vibrator up her pussy, then pulls her pantyhose back up to hold the object in place. Scarlet grabs the vibro through the front of her tights and allows the taut layer of nylon to push it back inside the walls of her lubricated fuck hole as she masturbates.
Scarlet kneels on the bed and presenting her lovely firm, round arse, she tears a hole in the rear of her pantyhose. Then encouraging you to wank your cock, she works the vibro up her hot, tight pussy and builds up to an intense pantyhose climax.
Get our superb Vintage Flash newsletter each week - all the latest model info, updates, set preview pics and more!