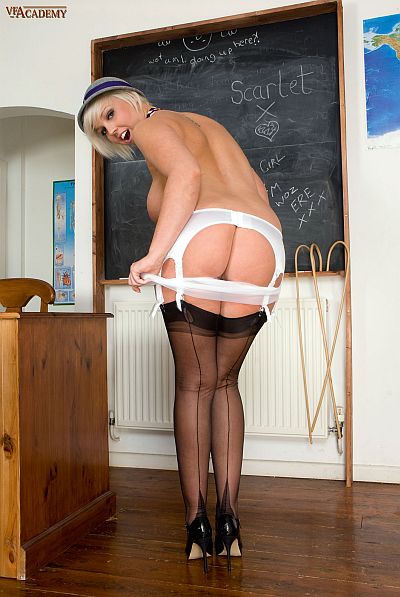 Scarlet was caught fighting with another girl and sent to detention, though she was actually trying to kiss her friend who didn't like it and put up a bit of a struggle.
In the detention room she was sitting at the desk writing out her lines, when our horny Janitor paid her a visit to keep her company.
'What are you trying to do, look up my skirt? I bet you're trying to see my stocking tops aren't you?' Scarlet said in mock surprise, but secretly pleased by the attention she was getting.
Scarlett had heard about the size of the janitor's cock from the other girls at the academy and was very curious to see it for herself. So she made a deal with the janitor, promising to show him her stockings and suspenders, providing he got his dick out in return.
Smiling, Scarlett teasingly pulled up the hem of her skirt and gave him a tantalizing look at her white satin suspenders and the sheer nylon panties she was wearing close to her pussy.
'Now I've shown you a bit more, why don't you get out your cock and show it to me!' She said, desperate to see how big it was, and at how much he was getting turned on by looking up her skirt.
Getting up, Scarlett walked to the front of the classroom and raised her pleated skirt up higher. She gave him a proper look at her panties, all nicely framed by the straps of her suspenders stretching down to the tops of her black nylon stockings.
Stripping off her blouse, Scarlet took off her bra and put her ample boobs on display. Then she hooked her thumbs into the waistband of her nylon knickers and pulled them over her lovely arse and down her sexy seamed stockinged legs.
Scarlett then climbed onto the teacher's desk and kneeling, she pulled apart the cheeks of her arse  and lips of her pussy wide open. 'Are you getting a good look at my pussy and my arse,' she said, rubbing one of her fingers up and down the pink slit of her hot cunt.
Get our superb Vintage Flash newsletter each week - all the latest model info, updates, set preview pics and more!