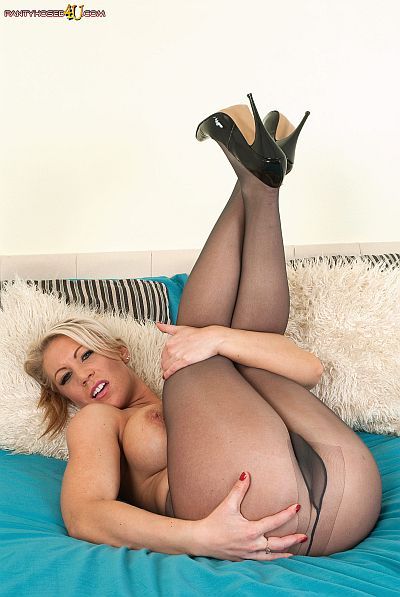 Ashleigh went out to a party dressed in a provocative black micro mini dress, sheer black pantyhose and 'fuck me' patient leather stiletto heels. She was expecting to find a guy who would give her a good fuck that evening, but she was rather disappointed that she didn't pull.
'I went out one horny bitch, and I've come back even hornier,' she said, just back from the party and sitting on the edge of the bed still dressed in her sexy outfit. 'So, I'm going to give you lot a lucky treat and get myself off for you!'
Laying on the bed she stretched out her long legs in their layer of shiny pantyhose, and pulling up her dress she felt up her arse and dragged her fingernails over the tightly stretched nylon that covered her thighs and the round cheeks of her butt.
'Do you like these pantyhose and how you can only just see through there', Ashleigh said, rubbing her fingers over the reinforced gusset in the front of her pantyhose crotch, through which the compressed lips of her pussy were just visible.
Ashleigh pulled her pantyhose upwards tight against her cunt and her nails ripped into the nylon mesh, tearing and breaking the fragile fabric into shreds.
'That's it, get in there and flick that clit with your tongue!' Ashleigh said, parting the glistening pink lips of her juicy cunt with her fingers and opening it out wide. 'Get that pussy flowing with juices,' she said, lasciviously grinding her hips and holding the flaps of her pussy wide open.
Ashleigh got on her knees and stuck her pantyhosed ass out and upwards. 'I want you to fuck this cunt from behind, baby!' She said, her hand reaching under to frig her pussy through the open hole in her ripped hose. 'Ram that cock deep inside me!'
Ashleigh widened the hole in her slutty pantyhose to get at her cunt and got off on talking real dirty as she wanked herself off to an intense climax.
Get our superb Vintage Flash newsletter each week - all the latest model info, updates, set preview pics and more!