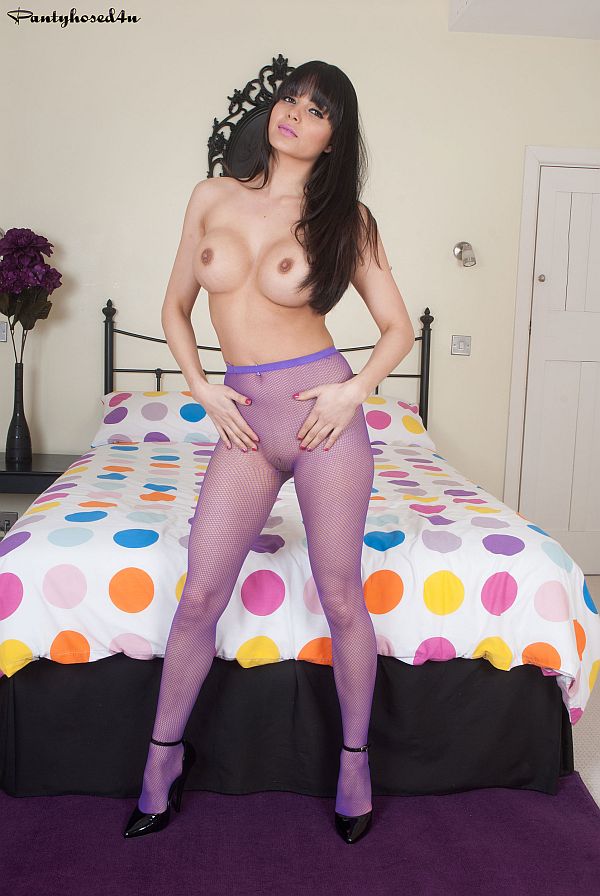 Sasha was going nightclubbing up the 'west end' and decided to wear something extra special and sexy as she had every intention of getting noticed by the guys, picked up and given a good fucking…
'I think I'm going to get lucky tonight, definitely wearing this outfit, don't you think?' She asked, standing to give me a better look at what she was wearing, which included a sexy black bustier and short, tight fitting leather mini-skirt, sexy purple fishnets and patent leather heels.
'I'll tell you a secret,' she said, lowering her voice almost to a whisper. 'I'm not actually wearing any panties with them, and obviously my pantyhose are a little bit see-through, but I think that will make them extra sexy.'
Sasha then turned and pulled up the back of the skirt and moved the palms of her hands over the rounded cheeks of her sexy bum encased in purple fishnet hose.
'It's so sexy, isn't it, like you can see everything but it's all a tiny bit hidden,' she said, regarding the way her pantyhose concealed her pussy behind the tight fitting mesh around her crotch, yet allowed it to be visible at the same time.
'I like nice tight fitting clothes, they always makes me feel a bit more sexy,' she remarked, then mentioned that her pantyhose were making her feel rather horny and suggested we should have a little play together.
She unclasped her bustier at the back and slipped the straps down her arms, then rubbed the now loose garment against the mounds of her heavy boobs, before discarding it and tweaking her brown nipples between her fingers.
Next, she stripped off her leather skit and knelt on the bed so her butt-hole and pussy where in full view, moving her hands over the pert globes of her pantyhosed ass and rubbing her clitoris through the tight fitting mesh that surrounded her crotch.
Sasha then lay back on the bed and pushed her hands down the front of her hose, slipping her fingers between the moist lips of her cunt and vigorously pushing them in deep as she masturbated to her pantyhose climax.
Get our superb Vintage Flash newsletter each week - all the latest model info, updates, set preview pics and more!