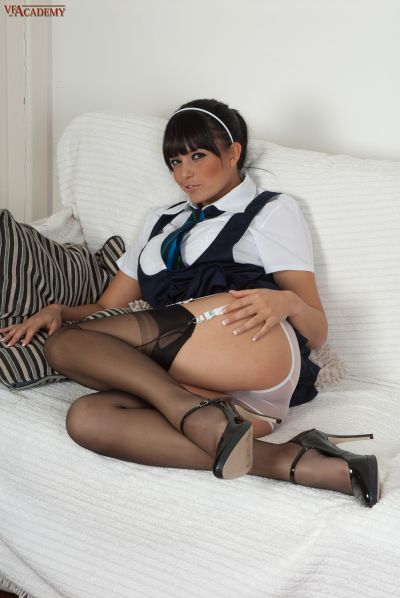 Sasha had been given a warning that she may be expelled from the academy because of her overt sexual behavior. Fed up with getting in trouble, she went for an interview at another academy to see if they would give her a place, but they also found her a bit too sexy!
Sasha couldn't help stroking her legs as she sat opposite the interview panel, and she noticed one of the pervy female teachers looking at her legs and panties under Sasha's short dress.
Whatever, they said her tight satin uniform and stockings were far too sexy for their establishment, and sent her back to VF Academy.
Maybe she shouldn't have worn her sexy satin uniform, the way it stretches tightly over the mounds of her swelling breasts, which heave under the tight material of her satin blouse whenever she breathes in.
Sasha loves the feel of her uniform, and can't resist feeling her tits and ass through the cool satin material.  She tells us how sexy it feels as her hands glide all over her body, running them up the backs of her seamed stockinged legs as she bends over and gives a view of her white panties just under her uniform.
Feeling very horny, Sasha strips out of her uniform, down to her panties, stockings and cute 'pink gingham' suspender belt, so she can have a play with herself.
Taking her knickers down, naughty Sasha stretches them between to her ankles, before removing them to rub her naked pussy with the soft sheer material.
Reaching for her new sex toy, Sasha reclines on the sofa and inserts it up her juicy pussy, which makes sticky wet sounds as she reams her hot pink fuck hole to the point of orgasm.
See Sasha strip off her uniform in this (163 Image) photo set and masturbate in her stockings i n her video 'Out, Then In, Then Off'.
Get our superb Vintage Flash newsletter each week - all the latest model info, updates, set preview pics and more!