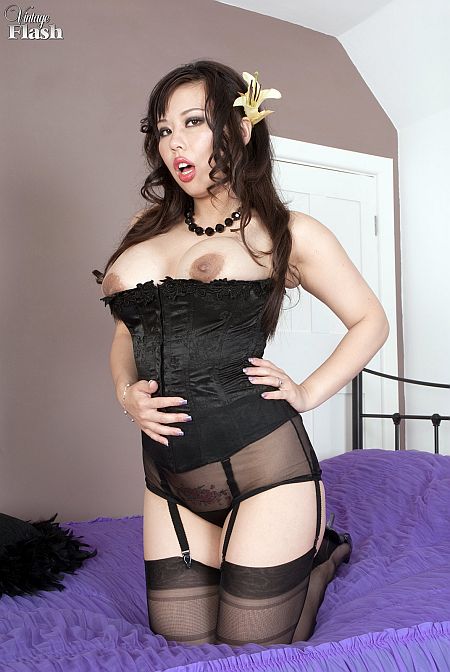 Tigerr is wearing something special for you tonight! She's going to treat you right by putting on a sexy show in her stockings and suspenders, then masturbating on the bed for your pleasure, as seen in her video at Vintage Flash.
Dressing up in a black satin corset, sheer nylon panties, stockings, suspenders and heels, Tigerr sure knows how to treat her man when he gets home after a hard day at work.
'I know you are a hardworking boy, so I thought I'd dress up and put on some of your favourite stockings,' she says, getting off the bed and pulling up the tops of her saucy black nylons.
As Tigerr shows you the rest of her lingerie outfit, her voluptuous titties spill over the top of her corset. Pushing her fleshy boobs together, she holds them close to your face and rolls the soft brown nipples between her fingers.
Lying on her side, Tigerr teases her panties over her buttocks, just enough to show you her pussy and the puckered ring of her ass. Her hands roam over the soft flesh of her ass cheeks, and explore the musky crevices of her sex as she entices and encourages you to enjoy her body.
'Don't be shy, I want you to do whatever you want to do with me, you have full access', Tigerr says, pulling her knickers down her seamed stockinged legs, then holding them up for you to sniff.
Kneeling on the bed so as to give you a perfect view of her ass and pussy, Tigerr then uses her fingers to open the pink slit of her pussy and encourages you to lick her juicy cunt lips.
Then lying on the bed, she holds the lips of her pussy apart and encourages you to get out your cock, get between her stockinged legs, and fuck her tight wet cunt.
See Tigerr Benson masturbating in black stockings and suspenders in this (110 image) photo set and video – 'Been Waiting For You'.
Get our superb Vintage Flash newsletter each week - all the latest model info, updates, set preview pics and more!