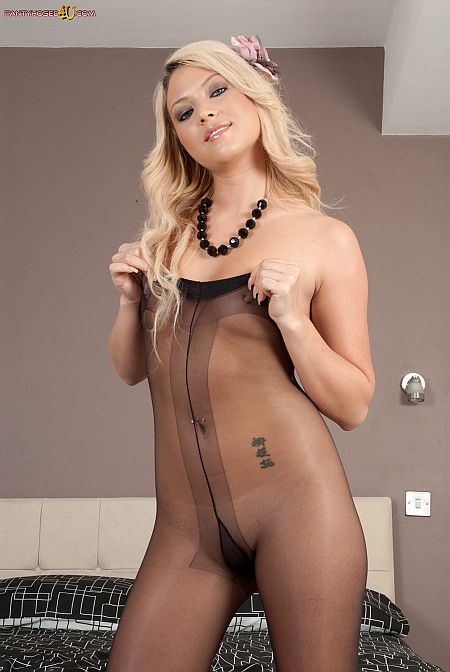 Natalia's slender legs looked fabulous in her pantyhose, the nylon fitting nice and tight around the contours of her crotch and shapely ass as she posed in front of me.
Kneeling on the bed to give me a view of her delicious buttocks in their nylon encasement, she began touching her pussy through the reinforced gusset and remarked it was already damp.
Lying on her side her fingers explored the nylon crevice of her pussy and ass, then she slipped her hands down the front of her hose and vigorously started to masturbate.
Natalia bucked her pantyhosed hips off the bed as she frigged herself off, her masturbating hand stretching the nylon screen of her tights as she moved it inside her hose.
Natalia stood over me and stretched her pantyhose right up to her tits, moving her nyloned cunt and massaging her pussy so near my face, I could smell her warm sex getting hotter.
Sitting on the edge of the bed, Natalia's nails ripped through the front of her pantyhose to expose her naked cunt, then she spread her legs and slapped several fingers up her moist fuck hole.
Lying on her side to give a perfect view of her ass, she then pulled at the torn rear of her hose to expose the flesh of her rounded buttocks. Natalia then stuffed several fingers up her hot snatch and vigorously masturbated to an intense pussy climax.
See Natalia wanking in her ripped pantyhose in this (228 image) photo set and video – 'Sexy Outfit, Just For You'.
Get our superb Vintage Flash newsletter each week - all the latest model info, updates, set preview pics and more!