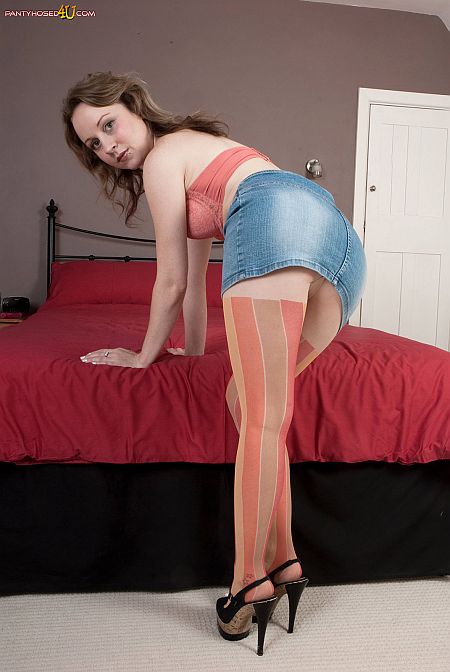 Petite Kiana went out to the cafe wearing a pair of eye catching stripy Fogle pantyhose and a short denim skirt this morning, and found herself getting some attention from the guys on the next table.
Apparently they kept dropping things to pick up, and then they would get a quick look up Kiana's skirt while they were looking under the table.
Kiana came over to show me her pantyhose, and let me know she was feeling a bit horny after the incident at the cafe.  So we went up to the bedroom to video her having a wank in her lovely new hose.
Lying on the bed she pulled up her skirt and rubbed her pantyhosed legs together, so the nylon made a swishing sound as they brushed against each other.
Kiana felt her arse through the tight nylon rear of her hose, noting the contrast of design between the seat of her hose and the plain stripes of the legs.
Pulling the cotton patch in the crotch to one side, Kiana showed me the jeweled piercing of her clitoris through the sheer stretchy material of her pantyhose.
Then she took her vibrator and slipped it up her pussy, pulling the crotch of her pantyhose back over the object to keep it in place inside her vagina.
After teasing her pussy through her nylon pantyhose, she eventually stripped them off, and I watched a fully naked Kiana use her sex toy to make herself cum.
See all natural teenager Kinna wanking in her fashion pantyhose in this (163 image) photo set and video 'Stripy, Strip Strumpet'.
Get our superb Vintage Flash newsletter each week - all the latest model info, updates, set preview pics and more!