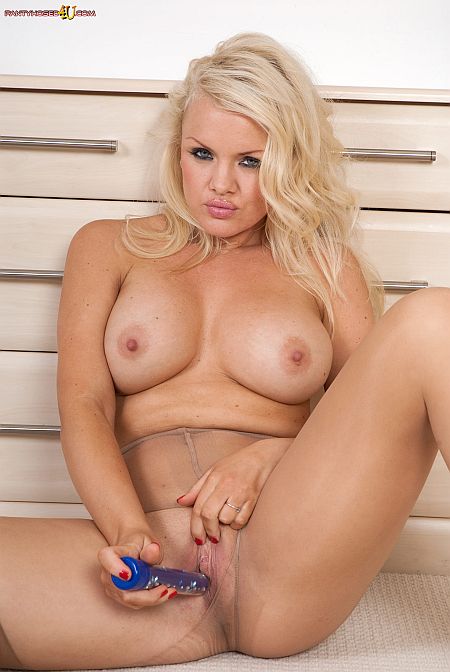 'I'm feeling very sexy, very naughty and absolutely filthy today,' said Frankie, who had been waiting all day to show off her legs and ass in her micro mini dress and sexy glossy tan pantyhose.
'It's these pantyhose that are turning me on, especially when I pull them against my cunt, it makes all my juices in the pantyhose really wet', she said, lifting her skirt to show me the clingy nylon hose fitting snugly against her naked cunt.
Frankie turned to show me her cheeky nylon clad ass, and I noticed  how sexy the seam of her pantyhose looked as it ran up through the cleft of her rounded buttocks.
'I could sit on your face, my pussy dripping wet as I smother you with my pantyhose crotch,' Frankie said, squatting down on her heels and grinding her nyloned pussy and ass, fantasizing of how she'd smother my face with her pantyhosed rear.
'I can't wait to rip these tights off and play with that naughty little pussy of mine,' she said, and began rubbing her pussy through the nyloned crotch of her hose, 'and I've got a nice big dildo to stick deep in my cunt!'
Frankie indulged herself in an orgiastic session of pantyhose masturbation, slipping her hands down the front of her transparent hose to tease her clitoris and stick her fingers up her juicy pink cunt.
Ripping the crotch of her hose open to get at her hot pussy, Frankie got down on the floor and gave her cunt a thorough workout with a dildo.
Getting on her knees with her arse tilted upwards, she pushed the object through the torn fabric of her pantyhose until she she finally climaxed hard and loud.
See Frankie wanking in her ripped pantyhose in this (149 image) photo set and masturbation video – 'How Do I Look Today?'
Get our superb Vintage Flash newsletter each week - all the latest model info, updates, set preview pics and more!