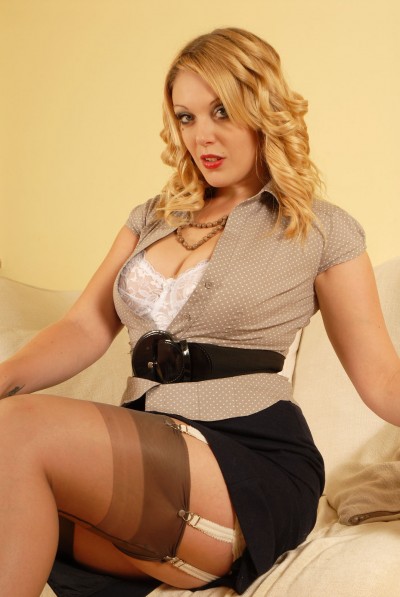 Shay looks prim and proper in her tight top, skirt, fully-fashioned nylons and heels. Just the way your mum or aunt may have done back in the day, casual but smart, and always looking their best. But don't be fooled, this is the same chick we know and love for being far from prim, as you will see in our latest Vintage Flash Movie.
Shay tells us she is horny and puts on a seductive show, drawing attention to her seamed stockings, running her hands over her nyloned legs, then slipping off her heels to give you a close up of her seamed nyloned soles.
You'll notice Shay is wearing no panties beneath her skirt as she changes into a variety of positions to show off her legs. There is the promise of more to come, but first she removes her bra, then off comes the skirt to reveal she is wearing a genuine vintage white girdle that clings to her arse and hips.
Shay shows off all her curves, then getting on the sofa with her arse in the air, she starts to play with her pussy, making sure you get a perfect view of her seamed nylons and suspendered ass as she fingers her cunt.
Finally, lying back with her stockinged thighs wide open, Shay finishes by bringing herself to orgasm, as seen in this explicit, 15 minute nylons stockings tease and masturbation movie from Vintage Flash.
Get our superb Vintage Flash newsletter each week - all the latest model info, updates, set preview pics and more!