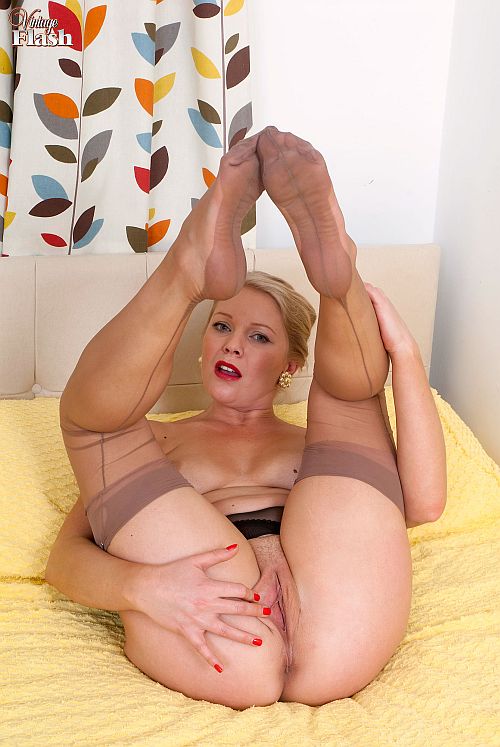 Abi had been to work wearing some vintage point heel nylons and a multi-strap garterbelt under her pure wool skirt, and their combined effect had been making her feel aroused all day as he sat at her desk or walked through the office.
'They feel so soft and silky against my skin,' Abi said, as she sat and seductively ran her hands over her shapely legs in fully-fashioned nylons; down from her knees to her ankles and drawing attention to her black patent leather stilettos.
Abi stood and pulled the hem of her skirt up slightly to give and upskirt view of her panties. Then she stripped out of her blouse and skirt to reveal she was wearing a black sheer 'whirlpool' bra, lacy full-cut panties and black sheer garter belt with metal suspender clasps attached to the tops of her tan nylon stockings.
She squeezed her tits through her bra before removing it to show her nipples were already firm an erect with arousal, then turned to hook her thumbs into the waistband of her lacy black knickers and slide them down her seamed stockinged legs.
Abi turned to show off her sexy sheer nylon garterbelt and her cunt tantalizingly framed by the suspenders which stretched over the flesh of her thighs to the tops of her nylons. She then lay on the bed and opened her legs to spread the wet lips of her pussy and slipped a large vibrator into her tight fuck hole.
Abi bucked her hips and ass as she thrust the vibro deep inside her throbbing cunt, stuffing her pussy with the object and rubbing her clit with her free hand. Then she got into a kneeling position with her ass in the air, making her buttocks bounce as she continued fucking herself with the vibro, pushing it in hard and deep to reach an intense orgasmic climax.
Get our superb Vintage Flash newsletter each week - all the latest model info, updates, set preview pics and more!