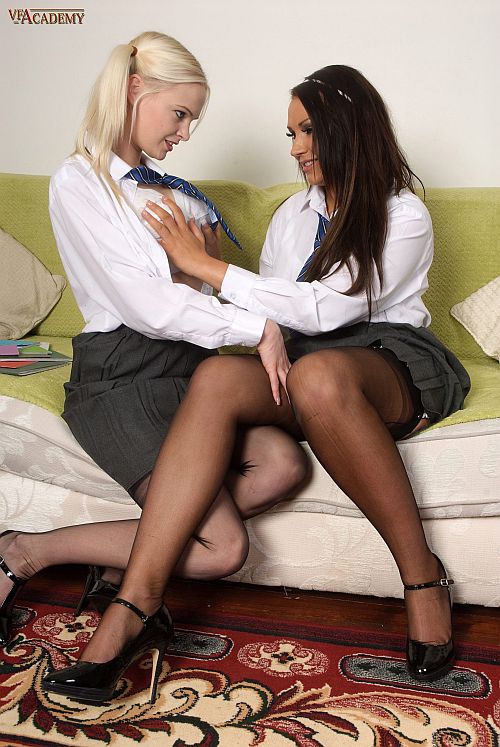 Kelly is pleased to see her friend Amy who is just back from holiday. They chat together and catch up on what they've been up to over the past few weeks, then their attention turns to discussing their new uniforms. Amy lifts up her pleated skirt to show Kelly her new cotton panties and before long they are both kissing and helping each other strip down to their nylon stockings and suspenders.
Kelly helps Amy out of her bullet bra and unleashes her friend's huge titties, then pulls down her panties and gets between Amy's thighs and gives her moist cunt a lick. Amy gasps with pleasure as Kelly slips a finger between the open lips of her pussy and feels her friend's wet tongue flickering over the hood of her erect clitoris. Amy then pulls down Kelly's knickers and gives her pussy a good licking, her quick tongue darting over the pink slit of Kelly's cunt and teasing the button of her pierced clitty.
Both girls indulge in an extended session of pussy licking, finally getting into a sixty-nine position and tonguing each others hot, dripping cunts to reach an intense mutual orgasm.
Get our superb Vintage Flash newsletter each week - all the latest model info, updates, set preview pics and more!