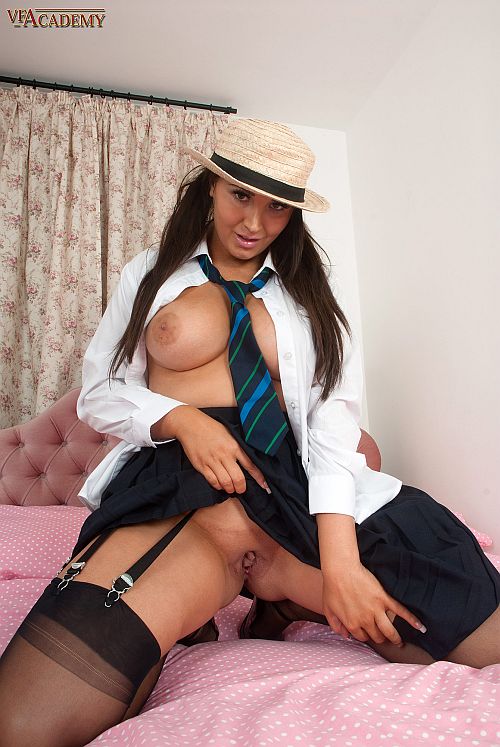 Amy is willing to show you everything as long as you get out your cock and give it a wank while she teases you with upskirt views of her panties, stockings and suspenders.
'I don't mind because I like to tease and I'm a very naughty girl, 'Amy says, as she reclines on the bed and seductively caresses her stockings legs. 'I'll give you a little flash as long as you wank that cock for me,' she promises, getting up to stand, then lifting her dress to show you her white cotton panties, framed by the long black suspenders stretching over her thighs to the tops of her nylon stockings.
Holding her pleated skirt up around her hips, Amy gives a close up view as she makes a cameltoe by rubbing her finger in the groove of her pussy slit through the material of her white cotton panties. Then she unbuttons her blouse to reveal she is not wearing any bra underneath and kneads the smooth flesh of her large, firm breasts in her hands.
Amy encourages you to wank your cock as she lays back on the bed with her legs open and slips her hand down the side of her panties to masturbate. Her hand moves behind the tight cotton crotch as she massages her moist cunt with her fingers, then bunches the front of her panties together and pulls them tightly between the fleshy lips of her vagina.
Amy lifts her ass off the bed as she tugs her white knickers down her legs and then gives them a sniff before offering them as a gift for you to use later. She then inserts several fingers between the moist lips of her cunt and vigorously masturbates in several positions until she finally reaches her satisfying climax.
Get our superb Vintage Flash newsletter each week - all the latest model info, updates, set preview pics and more!