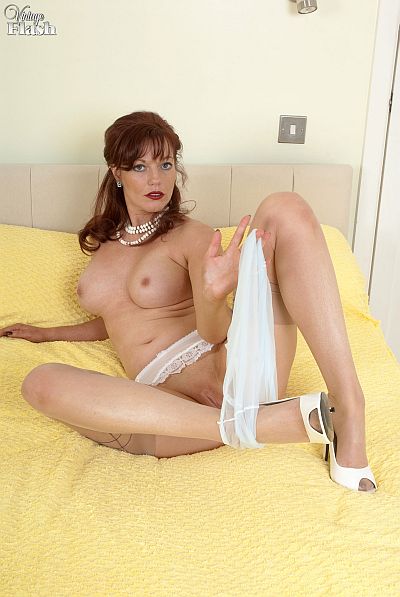 'You look like you've had a really hard day and I think you deserve a sexy striptease,' Holly says, as she invites you to settle back and enjoy the show she is going to put on for your pleasure.
Holly seductively unzips the back of her dress, turning to look over her shoulder as she pulls it down over the her lovely rounded ass, and lets it slip slowly down her stockinged legs.
Stepping out of her dress she stands with hands on hips and displays her fabulous figure in white bullet bra, matching 6 strap suspender belt and powder blue sheer nylon panties.
Holly gives you a full explicit view as she bends over and runs her hands up the back of her gorgeous tan full-fashioned nylon stockings, from ankles to the tops of her suspendered thighs.
'Do you know, doing that striptease for you has made me feel quite naughty', Holly says, sitting on the edge of the bed with her legs crossed with the array of her suspenders pulling tautly at the tops of her American vintage nylons.
Kneeling on the bed she removes her bra and pulls the stretched band of her nylon knickers over her buttocks, shaking her naked arse and pussy from side to side in a very sexy invitation.
Removing her panties and discarding them to one side, Holly reaches for her 'rampant rabbit' vibrator and slips the buzzing object up her lubricated cunt. Then she resorts to using her fingers, and vigorously rubs the hot lips of her pussy and clitoris as she masturbates to orgasm.
Get our superb Vintage Flash newsletter each week - all the latest model info, updates, set preview pics and more!