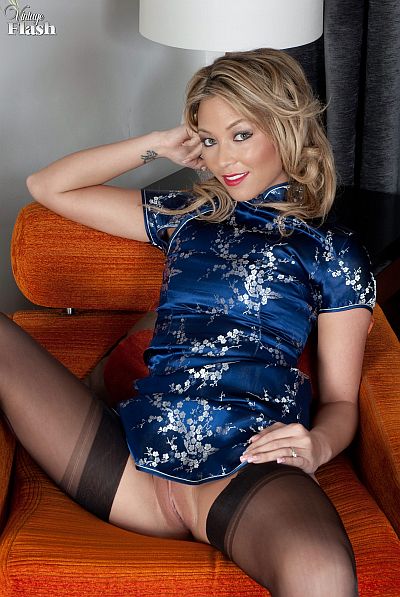 Gorgeous Asian beauty Natalia wants to be your personal Geisha and masturbate for you pleasure in black nylon stockings, suspenders and heels in her latest video at Vintage Flash.
Standing in her sexy shiny patent heels, Natalia places one foot on the top of the coffee table and runs her hands seductively up and down her seamed stockinged leg.
As her fingers reach the top of her thighs she brushes aside the slit of her sexy oriental dress, giving a tantalizing glimpse of metal suspender clasps attached to the tops of her stockings.
Sitting in her chair she opens her legs slightly to reveal she is not wearing any panties, saying she finds this much more comfortable and convenient.
Natalia lifts up her dress to reveals she is wearing a super sexy black girdle, then she turns to show how tight her suspenders look wrapped around the globes of her peachy ass which stretch down to the tops of her full-fashioned nylon stockings.
As Natalia stands above you she grinds her hips provocatively, then turning she pushes the moist slit of her naked pussy and the puckered ring of her arse right in your face.
Kneeling with her arse in full view, Natalia spreads the lips of her luscious cunt and masturbates openly, encouraging you to stroke your cock and fuck her hard from behind as she cums.
Get our superb Vintage Flash newsletter each week - all the latest model info, updates, set preview pics and more!