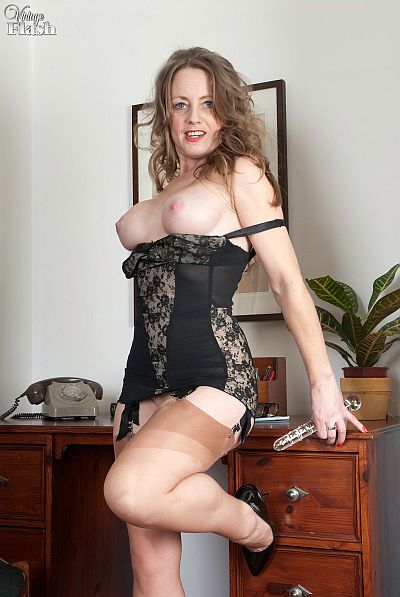 Horny secretary Tricia strips down to her nylon stockings and girdle, then shows you how she masturbates in the office, in this video at Vintage Flash.
Tricia notices you are looking at her stockinged legs as she sits at her desk. Luckily she's feeling in a frisky mood, and lets the split in the front of her skirt fall open to show off her legs in fully-fashioned nylon stockings.
Placing one leg over the edge of the desk, she moves the other leg to one side, parting the slit of her skirt to reveal she is not wearing any panties.
'So you like my legs best. Is it because of the seam?' Tricia asks, running her hand up the back of her extended leg, from the ankle up to the top of her nylon stockings. 'Quite hot, aren't they, and I guess you like my suspenders as well.'
Standing to kneel on the chair, Tricia lifts the rear of her skirt and lets you look at the suspenders of her girdle pulling tightly on the welt of her nylons. Her hands stroke her buttocks and the tops of her stockinged thighs, while she gives you a view of her suspendered arse and the lips of her partially concealed pussy.
Stripping out of her sheer frilly blouse and letting her skirt fall away, Tricia stands in her black lacy corselette that clings to the contours of her mature figure. Then finding her glass dildo in one of the draws, she gets on top of the desk and spreading her legs she slips the object up her sticky wet hole.
Tricia rubs her clitoris with one hand as she fucks the dildo up her mature cunt and gets off on you watching her masturbating in her office stockings.
Get our superb Vintage Flash newsletter each week - all the latest model info, updates, set preview pics and more!