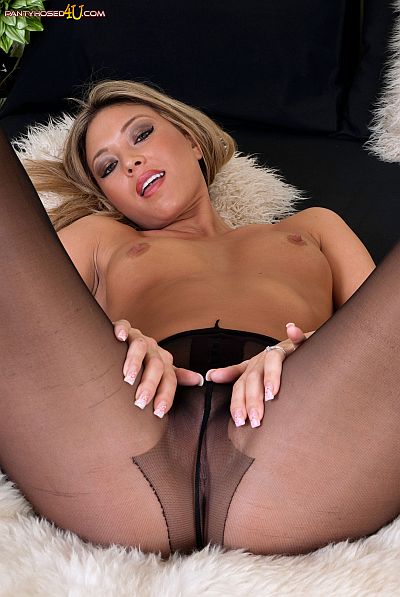 'You've caught me feeling very, very horny, so it's best you get that cock out!' Natalie says, sitting on the bed with her hands stroking her slender legs in black pantyhose. 'Make it nice and hard for me and show me how turned on you are'.
Natalia turns and lifts her dress to show off her fabulous legs and give a rear view of her pert sexy ass in tight black shiny hose. Bending forward slightly, she stretches her legs so that the muscles of her calves and thighs pull taut, and her hose clings tightly to the contours of her shapely legs.
Standing over you she pushes her pantyhose pussy close to your face so you can almost smell the perfume of her sex, then turns around to shake her nyloned ass and tease your cock to greater hardness.
On the bed she slips off her shoes to give her feet a rub, then turns her attention to her pussy and massages her clit behind the nylon front panel of her tights. Grinding her pantyhose hips in a circular motion, her fingers press hard against the black seam up the front of her pantyhose as she rubs her clitoris through the tight nylon covering her hot coochie.
'That's it, touch me. Run your fingers up and down my legs nice and slowly,' Natalia says, as she slips one hand down the front of her tights and fingers her moist pussy.
Natalia's gasps with excitement as she tears into the crotch of her pantyhose with sharp fingernails and releases her tingling pussy. Then slipping a buzzing vibrator up her sticky fuck hole, she encourages you to masturbate as she fucks herself hard and cums with the vibrator deep in her throbbing cunt.
Get our superb Vintage Flash newsletter each week - all the latest model info, updates, set preview pics and more!