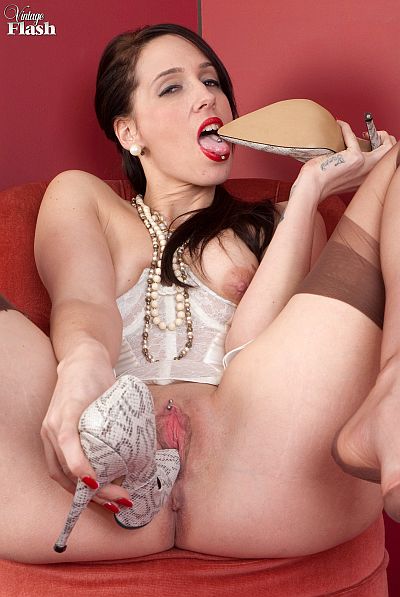 Tammy Lee teases with a tantalizing display of her legs in nylon stockings, then masturbates with her heels in her latest video at Vintage Flash.
Tammy looked delectable as she sat in her boudoir, wearing a satin merry widow corset, coffee colored full fashion nylons and leather high heels. She was wearing no panties and sat with legs crossed, carefully hiding her naked pussy from view to tease me as much as possible.
'First, I'm going to let you take full advantage of my fully fashioned stockings', she said, slipping off one heel running her finger over the seam along the underside of her stockinged foot. Then she stood and turned to show me her peachy ass and her long garter straps stretching around her buttocks to the tops of her nylon stockings.
'Look how long these legs of mine look, so smooth and sexy in their fully-fashioned nylon stockings', she remarked, bending slightly and reaching down to her ankle and move her hand up the length of her slender stockinged legs.
Sitting once again, Tammy finally parted her stockinged legs wide to reveal all; pulling the lips of her wet pink pussy wide open for me to see in close up, as she stuck her fingers up her gaping cunt.
'Oh, I want you to wank your cock for me and rub your hands all over my nylon stockings', Tammy said, moving her buttocks back and fourth on the edge her chair as she stirred her finger up her sticky pink hole.
Pulling the lips of her labia open even further, Tammy exposed the hot button of her erect clitoris glistening in the wetness on her own juices. Then removing her heels she placed the tip inside the entrance of her hot gash and masturbated with the shoe stretching the inside of her cunt.
Tammy fucked herself with her shoes and fingers stretching the lips of her pussy, her hips writhing in pleasure as she masturbated wantonly to reach an intensely satisfying climax.
Get our superb Vintage Flash newsletter each week - all the latest model info, updates, set preview pics and more!