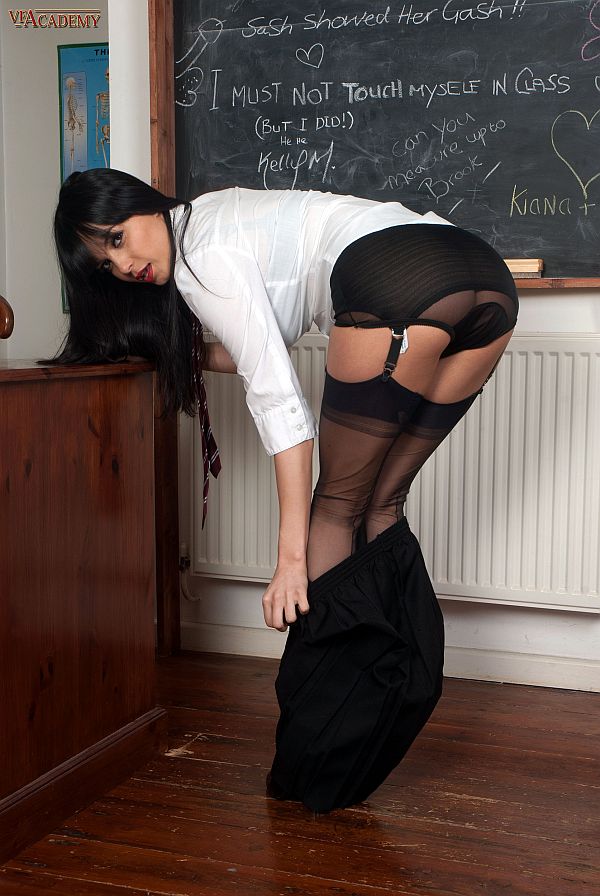 Sasha is a bit of a wild one and difficult to handle, which is why she's always getting into trouble and being sent to cool off in the detention room here at the academy. On this occasion she'd been caught lifting her skirt and flashing her panties at some of the boys in her class…
'I was just showing them my cute black panties, which are basically see-through,' Sasha explained, as she sat on top of the teacher's desk and quickly opened her legs to give a flash of her panties and the tops of her black nylon stockings under her skirt.
'I love these silky, nylon stockings, they're such a turn on,' she remarked, enjoying the sensation of her fingers as they swept over the surface of her sexy nylon stockings that covered her slender legs. 'I'm sure the teacher's make us wear these on purpose.'
Sasha stripped out of her uniform and turned to give her sexy ass a little wiggle as she allowed her skirt to slide down her seamed stockinged legs to the floor. As she leaned forward, the black, tight fitting girdle she was wearing expanded around the soft flesh of her buttocks and the suspenders pulled taut on the tops of her nylon stockings.
Kneeling with one leg up on the desk she gave a view of her pussy, then slipped her hand between her legs and moved her hips in a sexy circular motion as she rubbed the slit of her moist cunt.
Sasha eventually knelt on top of the desk in full kneeling position, her ass and pussy framed by her black suspenders stretching around her buttocks to the tops of her stockings, then she masturbated with her fingers pushed deep into the crevice of her hot, tight cunt.
Get our superb Vintage Flash newsletter each week - all the latest model info, updates, set preview pics and more!