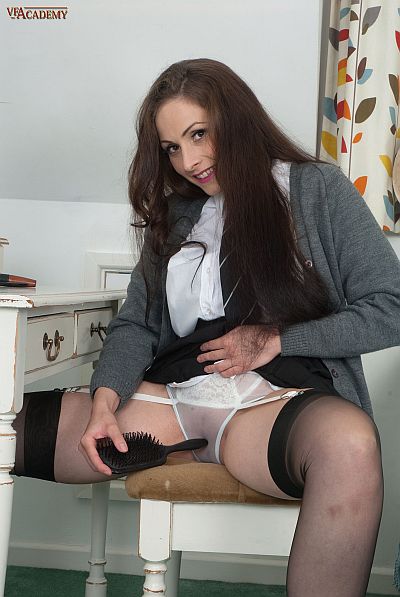 Sophia is in her bedroom fantasizing about some workmen who she saw stripped down to the waist on the nearby academy playing field. The sight of all those naked torsos and bulging muscles has made her very excited and now she is in need of a cock to satisfy her lust.
Brushing her lovely long hair, Sophia talks about how she'd love to be wanking a big cock in her hands, then feel it rubbing against her sheer nylon panties and make her cunt dripping wet.
Feeling very horny she unbuttons her crisp white blouse and scoops her voluptuous tits out of her bra to give them a squeeze. Then stripping off her skirt she lays back on the bed with her stockinged legs spread wide and the lips of her  cunt showing through the front of her sheer nylon panties.
'Just imagine that big cock rubbing against my tight pussy lips, wanting to fuck me,' Sophia says, placing the hairbrush against the crotch of her nylon knickers and rubbing her clitoris through the tight nylon with the brush handle. Sophia then lays on the bed and spreading her legs open, she masturbates with the brush, teasing her hot cunt through the flimsy nylon material.
Pulling down her panties to get at her gaping pussy, Sophia fantasizes about being fucked by some guy with a big cock. The long white suspenders of her garterbelt stretch over her thighs and tug at her stocking tops, as she squirms on the bed and frigs her throbbing pussy to a satisfying climax.
Get our superb Vintage Flash newsletter each week - all the latest model info, updates, set preview pics and more!