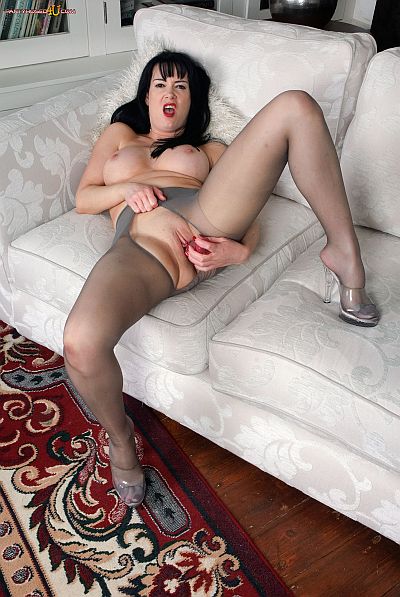 'Hi there, darling. I'm here in my sexy pantyhose for you!' Tanya said, as she greeted me in the living room and lifted up her dress to show me her pussy sheathed in clingy nylon. As her hand reached down to rub her crotch, I got a little closer and could see the pink slit of her pussy behind the sheer nylon screen of her grey pantyhose.
'Are you peeking up my skirt, you naughty man. I love it when you watch me,' she said, moving her hips and pushing her nyloned pussy close to my face as looked up at her pantyhose crotch.
'You rub that cock for me!', Tanya said, turning and presenting me with her bum encased in tight, clingy nylon. She wiggled her ass right in front of me as she bent over, her hands moving up her legs and ass covered in shiny nylon hose. 'I love seeing your cock throbbing in your hand!'
Tanya stripped off her dress and lay of the sofa with her legs wide open, the lips of her pussy squashed behind the nyloned crotch. She then pushed one hand down the front to spread her pussy lips and rubbed her slit through the tight nylon mesh with the palm of her other hand.
Tanya's fingernails ripped into her hose and she tore a large hole in the gusset to get at her hot pussy, pulling the pink lips of her labia apart and wetting her fingers to give the nub of her clitoris a vigorous massage. She then slotted her fingers into her juicy fuck hole and frigged herself off, her digits making sticky sounds as she worked them in and out of her lubricated cunt.
Tanya finished herself off by inserting a softly buzzing jello video right up her sopping wet cunt, shoving it deep inside her tight hole to reach an intense, breathtaking climax.
Get our superb Vintage Flash newsletter each week - all the latest model info, updates, set preview pics and more!