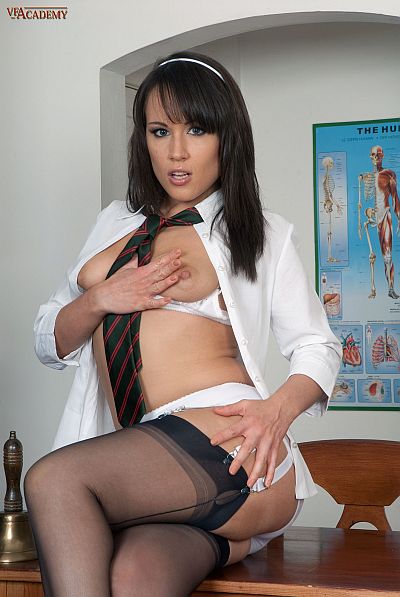 Being in detention doesn't mean Lucy wants to learn, oh no, more so she wants to teach YOU how to pleasure her!
Lucy doesn't mess around and gets right down it, telling you to get you cock out as she opens her crisp white blouse and pulls down her bra to flash her pert titties. Turning she bends over the desk and drops her pleated skirt to let us see her ass in sheer nylon panties and legs in nylon stockings and suspenders.
Sitting astride the desk Lucy plays with her tits, squeezing them together and tweaking puffy nipples between her fingers. Slipping one hand inside her panties she gives her pussy a good feel, her fingers making sticky sounds as she stirs them around her juicy hole.
Lucy then teases her panties down until they are stretched around the array of suspenders attached to her stockings tops, pulling the lips of her pussy wide with both hands to give a better view.
Climbing on the desk she opens her legs and gives a bit of an anatomy lesson, showing you her cunt and emphasizing the importance of the clitoris and showing how she uses her fingers to pleasure herself.
Lucy then kneels on the desk so her ass and pussy are in full view to demonstrate how she masturbates and brings herself orgasm.
Get our superb Vintage Flash newsletter each week - all the latest model info, updates, set preview pics and more!