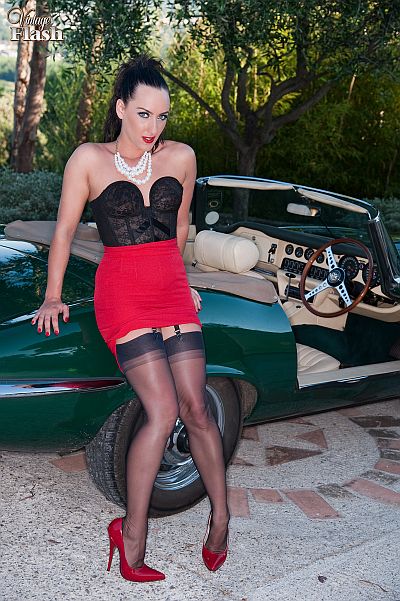 Chloe Lovette was on holiday in the the Cote d'Azur a few weeks ago and sent us this video of herself masturbating outdoors in her fully-fashioned nylon stockings and heels.
Chloe was ready to go out that evening, dressed in a tight fitting, black lacy bodice and pencil skirt, plus some classic black Harmony Point stockings and stilettos. She was feeling quite turned on by her retro-outfit and decided it would be fun if she went and posed on her friend's Jaguar sports car and maybe get a bit naughty.
Outside the sun was shining and the air was warm and sensual that evening as Chloe paraded around the car parked outside the villa. Her stiletto heels clicked loudly as she walked over the stone forecourt and posed in several positions on the car itself.
Chloe leaned back and pulled up her tight pencil skirt to give a tantalizing look at her black suspenders and the tops of her nylons. Then stripping off her bodice and skirt she turned to give a rear view as she wiggled her ass in black, full-cut lacy panties. She then tugged her panties down so they were stretched between her stockinged legs, giving a rear view as she pulled them down to her red patent leather heels.
Leaning against the car she spread the lips of her pink pussy with the fingers of one hand and teased her clitoris with the other. The webbing of her black suspenders pulling at the tops of her nylons formed a sexy frame for the sight of her finger as it rubbed the hot button of her clit.
Chloe then lay over the bonnet of the car and reaching under her crotch she frigged her pussy with several fingers which made her climax. It was a good start to the evening and she went off in the car with her friend to a local restaurant with the smell of her pussy still fresh on her fingers.
Get our superb Vintage Flash newsletter each week - all the latest model info, updates, set preview pics and more!