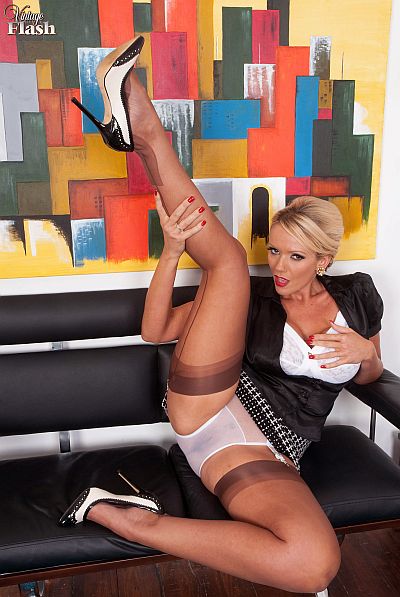 Lucy is waiting for her interview to be P.A. at an advertising agency and has dressed to impress in a tight fitting pencil skirt, full-fashion stockings and stiletto heels.
When the interviewer arrives she soon finds he has an interest in seeing what is under her clothes and raises her the edge of her skirt to give him a teasing glimpse of her stockings tops.
Realizing she has his full attention she unbuttons and removes her satin blouse to reveal she is wearing a close fitting vintage bra holding her huge tits firmly in place.
Lucy reclines on the seat feeling more relaxed as she talks to the interviewer, opening her legs wider so her skirt rides up to reveal the sheer crotch of her panties through which the slit of her pussy is clearly visible.
'You are a very nice boss, I hope I will be able to fulfill all of your needs,' Lucy smiles as her hands stroke her legs in their coffee colored nylon stockings.
Eager to show him more, Lucy unzips her skirt and slides it down, giving some very close-up views of her seamed stockinged legs. Then she unclipped her bra and lets it fall away, uncovering the huge mounds of her firm round titties and perky nipples which she rolls between her fingers.
Lucy turns to give a rear view, hooking her thumbs into the waistband of her nylon panties and tugging them over the cheeks of her ass and down her stockinged legs. Then spreading her legs once more, she opens the lips of her juicy wet cunt and explicitly masturbates to reach a breathtaking orgasm.
Get our superb Vintage Flash newsletter each week - all the latest model info, updates, set preview pics and more!