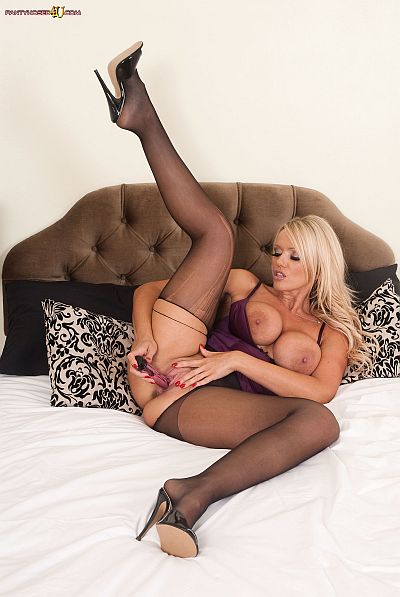 'I love the feel of my pantyhose, the soft silkiness running right the way up my legs,' Lucy said, as she sat and admired her legs encased in sheer nylon pantyhose. 'Makes me feel so sexy wearing them, I bet you love watching me, don't you?'
Laced into a figure hugging purple micro-dress that barely covered her thighs, Lucy explored the sensuousness of her legs in black pantyhose, moving her hands seductively up from her ankles to the shapely contours of her thighs. Then laying back and she crossed her legs and brushed them together, making her pantyhose swish with the erotic sound of nylon on nylon.
Kneeling on the bed she extended one leg to the side, drawing her hand up it's length and over the cheeks of her arse sheathed in tight nylon. 'I bet you'd love to sniff my pussy right through my pantyhose, wouldn't you,' Lucy said, her fingers moving to her crotch through which the pressed lips of her cunt could be seen behind the tight, sheer nylon.
Lucy pulled down the cups of her dress over her huge tits and tweaked the erect nipples between her fingers as she rubbed her pussy through her pantyhose. Then laying on her side she parted her legs to give a view of her nyloned cunt and dragged her red fingernails over the back of her pantyhosed thighs.
Lucy then ripped a hole in the crotch of her hose, and inserting a buzzing vibrator between the lips of her throbbing cunt, she wanked herself of to an intense orgasm.
Get our superb Vintage Flash newsletter each week - all the latest model info, updates, set preview pics and more!