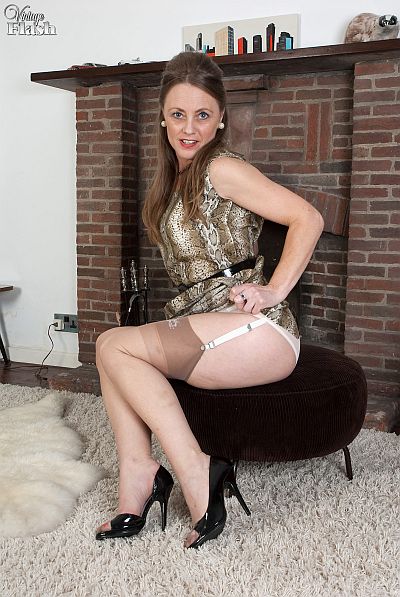 Horny housewife Tricia is ready to entertain you at home in her RHT stockings, suspenders and heels in her video at Vintage Flash.
Tricia was in a seductive mood due to the sensation of her classy 'Gotham Gold Stripe' RHT Stockings and the sexy peep toe stilettos she was wearing, which were making her feel particularly sexy.
Sitting on the pouffe she smoothed her hands over her stockinged legs and the tight fitting dress which hugged the contours of her shapely figure. Then she lifted the edge of the dress to give me a tantalizing peek at the taut suspenders stretching over the naked flesh of her thighs to the tops of her nylon stockings.
Tricia then stood and swayed her curvaceous body as she stripped out of the dress, revealing she was wearing a matching cream coloured bra and suspender belt, plus sheer nylon panties. 'I'll take these off just for you', Tricia said seductively as she hooked her thumbs into the waistband of her panties. Then teasing them over the her firm round buttocks, she slowly tugged them over her suspender clasps and down her stockinged legs.
Laying down on the sheepskin rug, Tricia opened her legs wide and put her hand between her thighs to massage the juicy lips of her pussy. The webbing of her suspenders pulled at the tops of her RHT stockings as she writhed on the floor and masturbated. Then spreading the lips of her cunt, she slipped several fingers inside her sticky hole and frigged herself off to finally reach her orgasm.
Get our superb Vintage Flash newsletter each week - all the latest model info, updates, set preview pics and more!