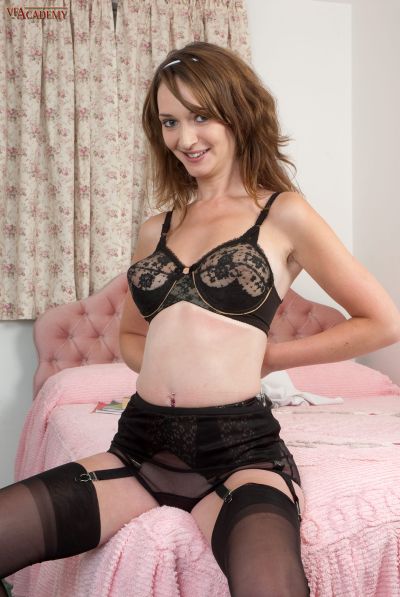 Kim was so pleased to see me when I knocked on the door of her bedroom as I entered and found her waiting for me on the bed. She'd written me a little note at lunchtime, saying she had manged to get out of playing netball that afternoon and that I should come up to her room while all the other girls were out playing sport.
As soon as I'd shut the bedroom door she was reaching out to feel the bulge in the front of my trousers, then eagerly encouraged me to unzip my fly and produce my big cock for her to admire. The saucy minx shuffled to the edge of the bed and opened her legs, making sure her dress was pulled up over her stocking tops to reveal her suspenders and the crotch of her black panties.
'Start giving it a good wank,' she said, making a repeated gesture with her hand as if she were wanking a cock in her closed fist. 'Ooh, I'd love that big cock to be in my tight pussy!'
Kim sat there with her legs apart, letting me see her hand in motion as she rubbed her pussy through the flimsy material of her nylon panties. 'You know you shouldn't be in here, don't you?' She said, circling her fingers over the damp crotch of her sexy black knickers. 'I'm glad you are though, because I getting really wet!'
Removing her dress she stood above me and my face was so close to her crotch I could smell the fragrant heat of her sex as she massaged her pussy through her panties. Then unbuttoning her crisp white shirt she unclasped her black lacy bra and played with her soft, bouncy tits; squeezing them together and pinching the pert nipples between her fingertips.
'Give that big, manly cock of yours a good work out', Kim instructed, as she lay back on the bed and slipped off her knickers. 'But don't you dare cum just yet, I want you to cum with me!'
Kim lay there with her stockinged legs spread open, playing with her tits while she rubbed her clitoris and the gaping, pink slit of her pussy with circular motions of her hand. I watched as she masturbated openly, building up her pleasure as she looked at me stroking my cock and she finally orgasmed in a breathtaking climax
Get our superb Vintage Flash newsletter each week - all the latest model info, updates, set preview pics and more!