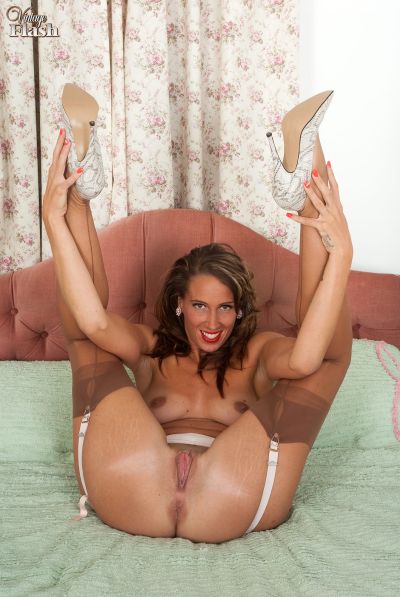 Tammy had been feeling horny all day while at work, sitting at her desk feeling her naked pussy getting hot and moist between her thighs just above her stocking tops. Her unsuspecting male colleagues really didn't have a clue why she had a smile on her face, but being sans panties gave her such a naughty thrill.
'I want you to sit back and relax, take your cock out of your trousers and do exactly what I tell you to do,' Tammy said, when she arrived home from the office, and told me about how horny she was feeling after her long day getting herself all turned on. But first she insisted I get out my cock so she could see it, while she performed a lascivious striptease to get me hard and ready to give her a fuck.
Tammy began her striptease by removing her top and then massaged her tits through the pink satin and lace, bullet bra she was wearing, before slipping the bra straps over her shoulders and removing it to free her tanned, naked breasts. She then teased up her skirt until it was just above the tops of her stockings, and leaned forward to rub her hands up and and down her long, shapely legs in their sexy coffee colored, full-fashioned nylons.
Unzipping her skirt she turned to give a rear view as she teased it over her buttocks, framed by the outline of her pink suspender belt and the long suspenders which stretched down to the tops of her seamed nylon stockings.
As she knelt on the bed she tempted me with an enticing view of her cunt and ass, all nicely surrounded by the webbing of her garterbelt wrapped around her buttocks and thighs. 'I bet you'd just love to stick your cock right there, wouldn't you?' Tammy asked suggestively, spreading the cheeks of her arse to present the target of her puckered ring where she wanted me to press my cock.
Tammy turned over and laying back she spread her legs to show me how wet her pussy had become. Slapping her fingers over the wet pink hole between the distended lips of her pussy, she pulled open the fleshy lips of her cunt to show me the glistening pink wetness inside. She then inserted several fingers in her gaping cunt, making wet, sticky sounds as she stirred her juicy fuck hole and masturbated openly in front of me.
Get our superb Vintage Flash newsletter each week - all the latest model info, updates, set preview pics and more!