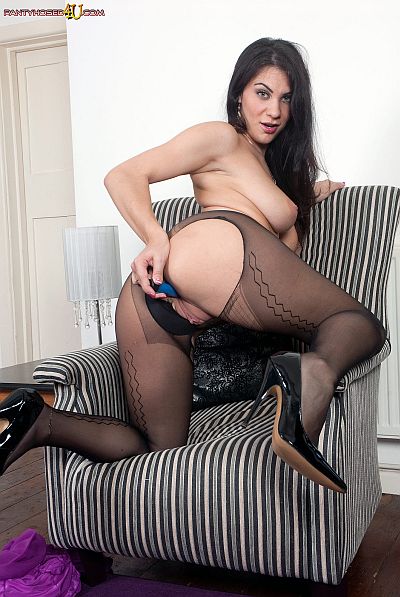 'Look at you getting excited at the sight of my pantyhose!' Roxy exclaimed at me, as she stood and turned to give me a look at her fabulous figure in her favorite purple dress, some sexy black designer pantyhose and 6 inch high, shiny patent leather, stiletto heels.
Kneeling on the chair she ran her hands all over her pantyhosed legs, tracing her fingers up the back of her leg and along the patterned seam from ankles and up to the top of her thighs. 'I love it when you put your hands on my bum when I'm wearing pantyhose', she said, rubbing the flat of her hand over her rounded buttocks sheathed in tight black nylon.
'Feels very silky against my pussy,' she continued, now sitting with her legs parted while circling her fingers over and around the reinforced gusset patch; teasing her tingling pussy through the tight mesh in the front of her tights. 'Are you getting excited watching me rub my pussy though my horny black tights?'
Roxy turned to give me a rear view a she wigged her ass and pulled the tight black dress downwards, letting it slide down her pantyhosed legs and fall to the floor. She turned around again, now naked from the top with her breasts hanging free and stood there showing off her shapely figure, half clad in shiny hose which clung to her hips, legs and thighs.
Sitting in the chair she squeezed her tits and masturbated with one hand pushed down the front of her tights, grinding her hosed hips and ass as she rubbed her clitoris behind the pantyhose gusset.
Roxy then decided to do something she knew I found exciting and pushed her sharp fingernails into the delicate nylon, ripping a hole in the front of her hose to get at her hot, juicy cunt. She slipped her fingers up her pussy and frigged her sticky hole, then grabbing her vibrator she inserted the object up her wet snatch and fucked herself with it to reach an intense orgasm.
Get our superb Vintage Flash newsletter each week - all the latest model info, updates, set preview pics and more!
NEW SERVICE FOR ALL SMART PHONE USING NYLONS LOVERS!
Text Nat here to get all her pics sent to your phone!
JUST TEXT 'WHITESEAMS' TO 69666
Phone fun day or night!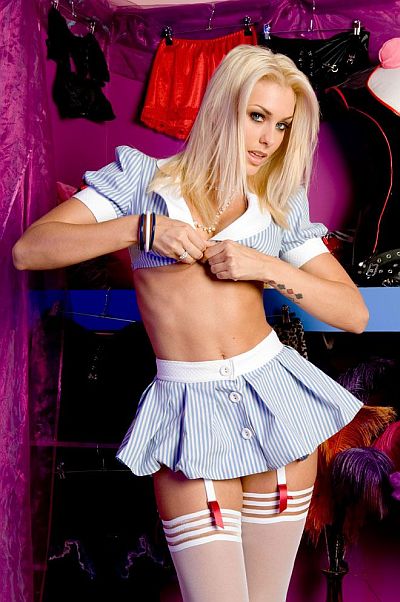 Terms & Conditions (Max 3x £1.50 per msg sent) help: 03333356970 PNP MEDIA - 2 STOP txt STOP
.......................................................................................................