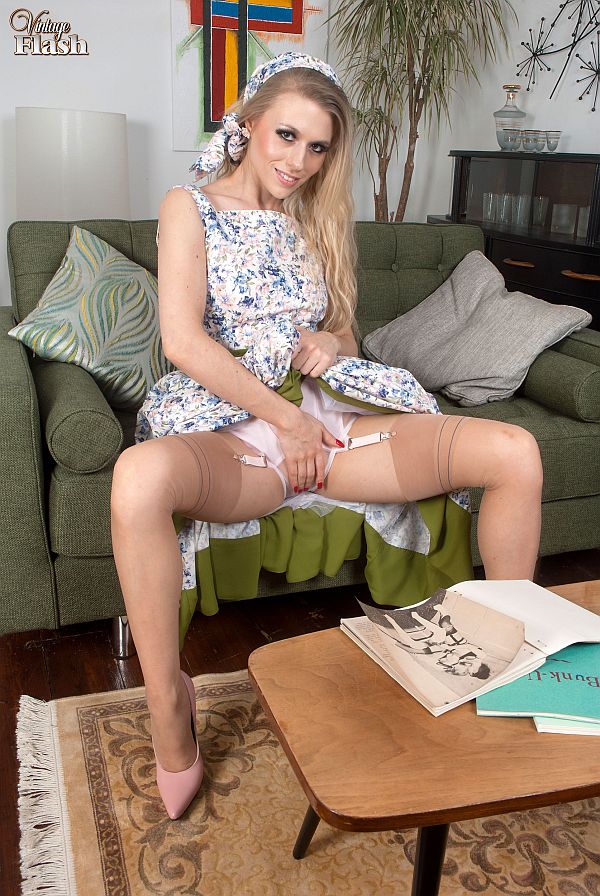 Horny housewife Michelle found herself getting very turned on while reading a vintage porn book which showed several women from the 1960s getting down and dirty in their fully-fashioned nylon stockings.
Michelle felt inspired by the scenes in the book and fancied she could be just as raunchy as those lustful ladies having lesbian sex in their sexy stockings and suspedners.
'Yes, I want to be just as aroused and just as horny as those ladies,' Michelle said, lifting the back of her dress to reveal she was suitably dressed to be a lascivious lady in her sheer nylon panties, pink suspender belt and tan fully-fashioned nylons.
Michelle reached between her thighs and softly rubbed her fingers over the thin, sheer nylon of her pantie crotch as she looked at the photos in the book which depicted a hardcore threesome.
'I wish I could be one of those ladies right now, but I'd have to be much more naked, wouldn't I?' Michele said, then unzipped her dress to reveal she was wearing a pink bra that matched her garter belt and slipped out of her gauzy petticoat to get more comfortable on the sofa.
Michelle's pink suspenders stretched down her thighs and tugged on the tops of her seamed nylon stockings as she knelt and rubbed her pussy through the sheer nylon of her panties while she continued to read her book.
'I'm starting to look just like the naughty girl in the book,' Michelle said, unclasping her bra and slipping it off to give her tits a squeeze, then stood up to pull her panties down her stockinged legs and remove them from over her heels.
Sitting down of the sofa she lifted her legs and flung them wide open, then circled her fingers around the pouting lips of her cunt and rubbed the pink slit of her pussy with rapid movements of her hand. She felt just like the ladies in the naughty book as she sat with her legs open wide and teased the fleshy petals of her pussy which glistened with her wet juices.
The webbing of her pink garter belt radiated out to the tops of her tan nylon stockings and framed her pussy as she lay back and masturbated on the sofa. Splaying the lips of her snatch to show the pink insides of her labia, she vigorously rubbed her clitoris with one hand and climaxed as she looked at the dirty pictures in her porn book.
Get our superb Vintage Flash newsletter each week - all the latest model info, updates, set preview pics and more!