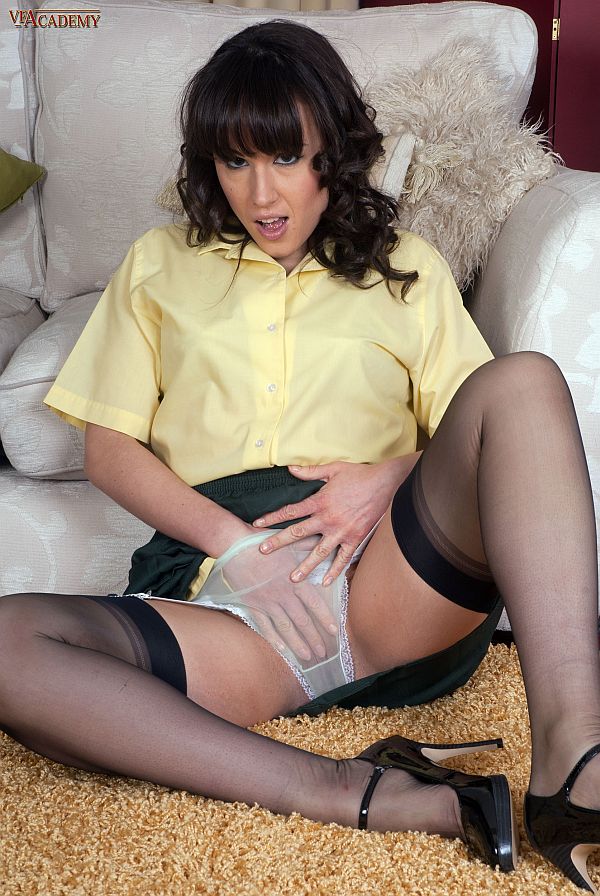 Lucy was at home doing her homework and when she'd finished she decided it was time for her to relax and enjoy a masturbation session.
'I've just been doing sex education and it's made me feel all wet and horny,' Lucy said, as she sat with her legs open and rubbed the front of her sheer nylon panties through which the slit of her pussy was showing.
Lucy pushed her hand down the front of her panties and gave her moist pussy a good feel, then slipped her fingers along the side of her knickers and pulled them to one side to expose the pink slit of her gaping pussy.
'I've got ages before everyone gets home, so I think I may just take all my clothes off', Lucy said, unbuttoning her shirt to uncover the powder blue bra she was wearing and then pulling her bottle green pleated shirt down her stockinged legs to remove it.
'I love being naked in the house on my own, it feels so naughty,' she said, as she stood in her stockings and suspenders and unhooked her bra, then slipping the straps of her bra over her shoulders, she removed it to allow her boobs to hang free. She then knelt on the sofa and gave a view of her ass and black suspenders stretching over the back of her thighs to the tops of her seamed nylon stockings.
'Sometimes I get so horny when I'm at the academy, that I have to rush into the toilets to play with myself,' she confessed, as she fingered her hot cunt with her hands down the back of her see-through knickers.
Lucy reclined on the sofa and removed her panties by stripping them down her seamed stockinged legs, then laying back with her legs open she masturbated with fingers inserted inside the pink slit of her wet cunt and made herself cum.
Get our superb Vintage Flash newsletter each week - all the latest model info, updates, set preview pics and more!