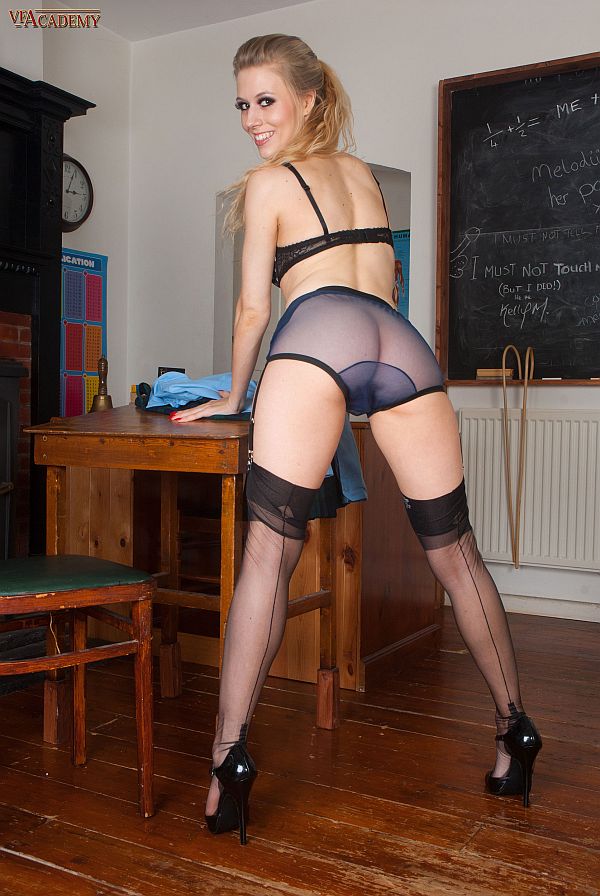 The time has come for Michelle to leave VF Academy, but not before she has one last chance to flirt with the janitor and do a striptease for him while she's in detention for the last time…
'Janitor, are you looking at my stocking tops!' Michelle exclaimed in mock surprise, as she sat there caressing her slender legs sheathed in black sheer nylon stockings and heels. 'How about a little show, huh?
Michelle stood up and lifted the back of her plaid dress and placed her hands over her ass encased in navy blue coloured sheer nylon panties, then gave it a sexy wiggle that caused her black suspenders to pull on the tops of her seamed nylons.
Unbuttoning her shirt she pulled it open to reveal she was wearing a polka dot bra, then stripped out of her dress and paraded in her panties, stockings and garters. Allowing the shirt to slip down her arms, she pulled it tight around the back of her thighs and gave her arse another sexy wiggle before throwing it to one side.
Michelle stood and stripped off her bra, then tugged her panties down her seamed stockinged legs to the floor and removed them from over her shiny leather heels.
Taking hold of the teacher's cane she gave her buttocks a self-spanking, then she held the lips if her pussy apart and whipped the cane against the red hood of her throbbing clitoris.
Her lovely cunt was perfectly framed by the webbing of her black suspenders which radiated out to the shiny black welt of her nylon stockings while she sat in the chair with her legs wide apart.
Michelle massaged the outer lips of her naked pussy, then slotting her fingers into the wet sticky hole of her juicy cunt she vigorously masturbated for the janitor's pleasure.
Get our superb Vintage Flash newsletter each week - all the latest model info, updates, set preview pics and more!