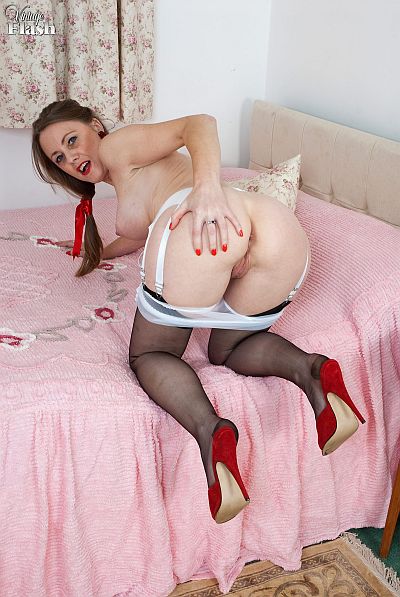 Mature housewife Tricia strips down to her nylon stockings and suspedners to masturbate in her latest video at Vintage Flash.
Tricia is in a hot mood tonight and she has dressed up in her sexy lingerie, black nylon stockings, suspender belt and sexy red heels, because she wants you to give her a good fucking!
Tricia begins by showing off her mature figure draped in flowing silky lingerie, her underwear tantalizingly visible through the opaque satin of her white nightgown
Stripping off her gown to stand half-naked, she draws attention to the crotch of her sheer white nylon panties through which the pink lips of her mature cunt can be seen in close-up.
Kneeling on the bed she tugs the waistband of her panties over her softly, rounded buttocks and leaves them stretched around the top of her stockinged thighs. The multiple straps of her suspenders wrapped around the cheeks her naked arse frame her pussy which she spreads open with her fingers.
Tricia then lays back on the bed, and spreading her stockinged legs wide she masturbates in her stockings and heels. Pressing her fingers against the slit of her mature cunt, she massages her clit and makes herself cum.
Get our superb Vintage Flash newsletter each week - all the latest model info, updates, set preview pics and more!