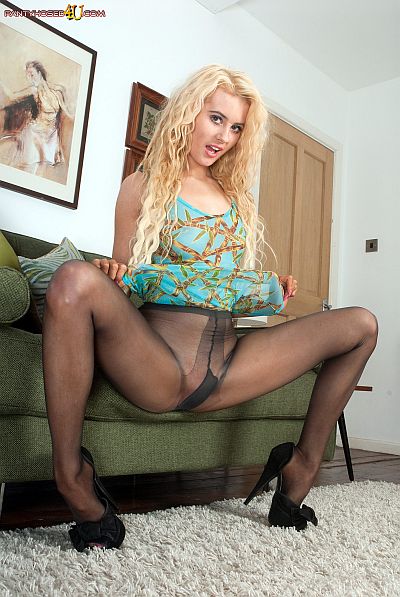 Leggy Brooke wants to be your teenage pantyhosed slut and make you cum while she teases and masturbates in her shiny pantyhose in this video at Pantyhosed 4U.
'Look how sexy they are, so glossy and see-through,' Brooke says, as she stands and shows off her long slender legs sheathed in the sheerest black nylon pantyhose. 'Are you wanking your cock for me, over my cheeky teenage bum?'
Brooke snakes her hips as she moves her hands over the surface of her thighs and ass encased in their slick layer of tight shimmering nylon. Her hose looks so tight around her slimline waist as she turns and presents a frontal view of her pussy hidden behind the reinforced pantyhose gusset.
Laying on the sofa, Brooke pulls her legs back so the lips of her wet pussy are squashed behind the tight nylon screen of her pantyhose crotch.
'I love being your dirty pantyhosed teenage slut,' Brooke says, as she slips her hand down the front of her hose and massages the moist pink slit of her juicy teen cunt.
Working her hand under the tightly stretched layer of shimmering nylon, Brooke bucks her hips as she fingers her sticky hole and wanks herself off in her sexy pantyhose.
Get our superb Vintage Flash newsletter each week - all the latest model info, updates, set preview pics and more!