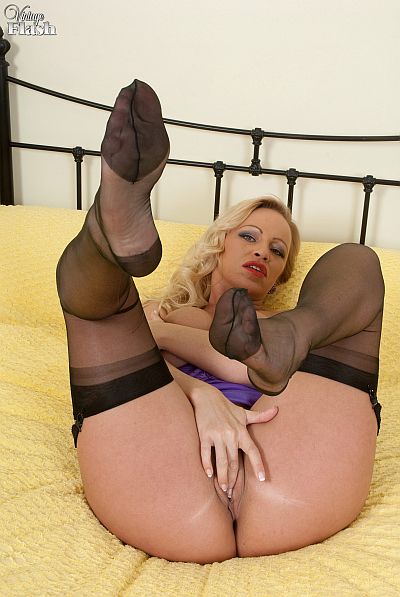 Taylor is wearing a tight fitting purple slip and black nylon stockings as she gets ready to out for the evening. Seeing how excited you are getting as you look at her in lingerie, she decides to enjoy a little sexy fun before you both leave for the restaurant.
'I know how you get really excited when I wear my nylons,' Taylor says, sitting on the edge of the bed with her legs crossed, fingers caressing the bumps of her suspenders attached to the tops of her black stockings.
'You're getting nice and hard for me now, aren't you?' She continues seductively, slipping her fingers between the top of her nylons and the naked flesh of her tanned thigh. 'Go on, play with your cock, we've got time. You know how it gets me very excited watching you play with yourself.'
Slipping the chemise off her shoulder, she kneads her voluptuous tits in her hands, her fingers pulling on the stalks of her brown nipples and making them stand erect.
Kneeling with her ass in view, Taylor pulls the waistband of her tight nylon panties over the globes of her firm round buttocks and slides them off her legs. Then laying back on the bed, she slips off her shoes to show the soles of her sexy stockinged feet in black RHT nylons.
'Slide your cock in between my feet and feel them rubbing against you as I play with myself,' Taylor says, pushing the soles of her feet together and feeling up her moist pussy between her thighs. 'That's it rub your cock against those sexy nylons as I play with my hot pussy for you.'
Get our superb Vintage Flash newsletter each week - all the latest model info, updates, set preview pics and more!