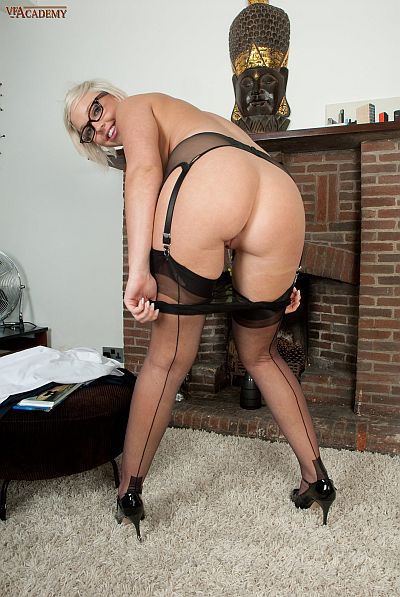 Geeky blonde student Scarlet is deeply engrossed in her course work, when she notices you studying her legs in black nylon stockings and heels.
'So you like my stockings do you? I like them too,' Scarlett says, lifting her pinafore dress to let you have a better look at her metal suspender clasps attached to the tops of her sexy stockings.
Easily persuaded to be naughty, Scarlett takes off her dress and kneels on the floor in her black nylon panties, stockings and suspenders. Her big boobs push against the front of her white blouse, and she brushes her fingers over the nipples through the tight cotton material.
Scarlet undoes her blouse and gets out her huge knockers, smiling with naughty pleasure as she puts them on display and feels their silky roundness in the palms of her hands.
Then rubbing her pussy through the crotch of her sheer black nylon panties, Scarlet decides she should take them off, and bending over she teases them down over her nice big ass cheeks.
'I think you should get that cock out and start wanking,' Scarlet says encouragingly, as she sits with her stockinged legs apart and dips her fingers into the open slit of her hot pussy.
Scarlet then rubs her erect clitoris and fingers the pouting lips of her luscious wet cunt, bucking her hips as she builds up her pleasure to reach an intense orgasmic climax.
Get our superb Vintage Flash newsletter each week - all the latest model info, updates, set preview pics and more!