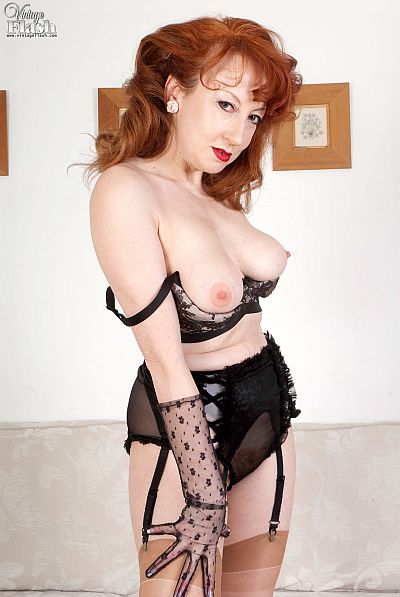 Red looks every bit a respectable mature English lady, well groomed and elegantly dressed in her classy tea dress. So who would have thought, that underneath her demure appearance lies a woman who loves feel of classic underwear against her body.
'What have I got under here,' she asks teasingly, lifting the hem of her dress up one leg to reveal the length of her suspender stretching down to the top of her tan nylon stockings. 'Hmm, maybe this lady is not so respectable after all!'
Poised on the edge of her seat with legs crossed, Red makes a show of rubbing her stockinged legs together, causing them to whisper with the sound of nylon brushing over nylon.
Red then demonstrates how even respectable ladies can be playful, lifting up her dress to give a flash of her suspenders and stocking tops, then dangling her shoes off the end of her nyloned feet.
Red then insists you get your cock out and play with it, while you watch her stripping out of her dress and jiggle her fulsome titties right in your face.
Slipping down her black panties, Red leaves them stretched under her ass cheeks and looks over her shoulder as she strokes the flesh of her creamy buttocks with her lacy nylon gloves.
'I'm bit of a slut under that tea dress, but you knew that didn't you,' Red says, pulling down her knickers and spreading her legs to tease her cunt slit with gloved fingers.
Red then slips off her shoes and presses the soles of her nyloned feet together, encouraging you to spunk over her stockings as she and rubs them together and wanks herself off to not one, but two orgasms.
Get our superb Vintage Flash newsletter each week - all the latest model info, updates, set preview pics and more!