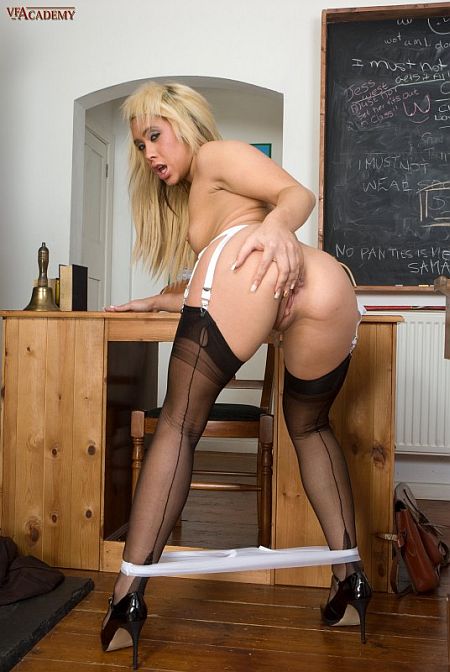 Whatever you do, don't get caught pinching Ms Rouge's tea break biscuits, she will not be amused!
Ms Rouge discovered Hannah had been stealing her chocolate fingers and hiding them in her desk, so our wayward girl was ordered to stay behind in detention.
With time on her hands to get up to other mischief, Hannah takes further liberties by stripping off down to her nylon stockings and suspenders, then bending over to pull her knickers down in the classroom.
How naughty Hannah feels as she pulls her butt cheeks apart and fingers her lovely pussy, much better than doing her lines. But if her teacher walked in now and found her with her knickers down, she'd be in deep trouble.
But the thrill of being caught just makes Hannah more excited, and climbing on the teacher's desk she masturbates by rubbing her nylon panties against her moist pussy.
Get our superb Vintage Flash newsletter each week - all the latest model info, updates, set preview pics and more!