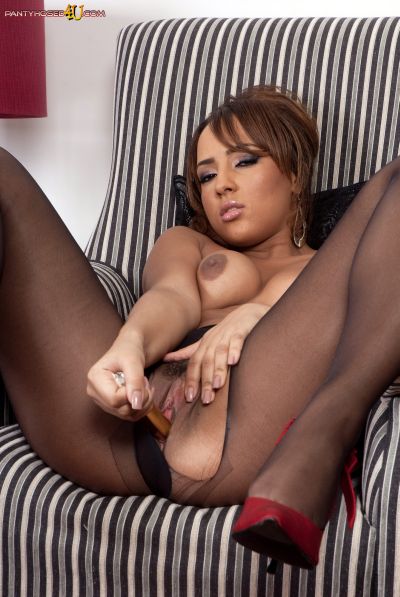 Dusky skinned Kayla looked stunning in a red dress that clung to her curvy figure, wearing some shiny black pantyhose, and sexy red 'fuck me' heels that accentuated the shape of her sexy legs.
'I like these pantyhose because they are nice and shiny, and they make my legs look so glamorous,' Kayla said, stroking her shapely legs sheathed in luxurious nylon pantyhose.
Kayla was in a very playful mood as she settled back in the chair, smiling with sensual pleasure as she enjoyed the sensation of her fingers caressing her pantyhosed legs.
Opening her legs wide so her skirt rode up over her hips, she pushed her thighs up and back further so I could see she was wearing no panties. Then she pulled the front of her pantyhose up tightly, to show me the slit of her pussy clearly visible through the sheer nylon crotch.
'I'd love to feel your hard cock pressed against my pantyhose, rubbing up against my clit,' Kayla said, moving a finger up and down the slit of her pantyhosed pussy, making the nylon moist with her juices.
Kayla excited herself further with her hand down the front of her pantyhose, fingers slipping in and out of her juicy snatch. Then ripping the gusset of her pantyhose apart, Kayla exposed the pink flesh of her glistening pussy and masturbated with her finger pressed against the hot spot of her throbbing clitoris.
Getting into several positions she masturbated in her torn pantyhose, spreading her ass cheeks while her fingers played in her excited cunt. Then stuffing a buzzing vibrator up her lubricated fuck hole, Kayla plunged it deep in her teenage pussy and made herself cum loudly.
Get our superb Vintage Flash newsletter each week - all the latest model info, updates, set preview pics and more!