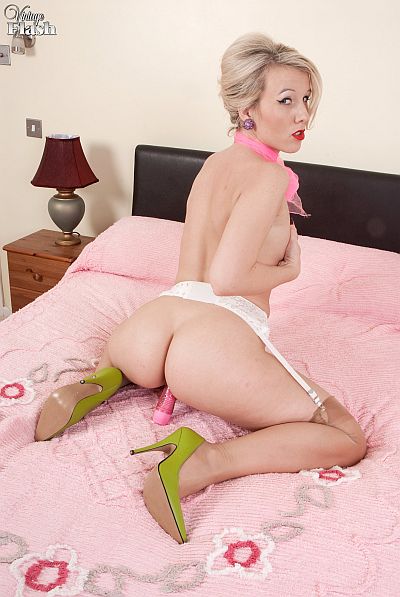 Evey discovered that she's the only one wearing genuine nylons in her office, after having a chat about her stockings with the other girls in the typing pool.
She explained to her colleagues that men really appreciate a lady who wears proper nylon stockings, and it brings her lots of attention as well as compliments about her legs.
Evey also gets a lot of pleasure from wearing them too, as they make her legs feel great and she enjoys the sensation of her nylon stockings rubbing against her thighs when she walks down the center isle in the office.
All this talk about her nylons made Evey feel very horny while at work today, but now she is home our stockings loving secretary can indulge herself in a little 'me time' and play on the bed.
Evey luxuriates in the sight and feel of her shapely stockinged legs, and the taut clasps of her suspender belt tugging at the welt of her full-fashioned stocking tops.
Shame her colleagues don't appreciate wearing proper nylon stockings, as Evey explains and shows us how much her vintage seamed full-fashioned nylons and taut garters make her feel so very, very sexy!
Get our superb Vintage Flash newsletter each week - all the latest model info, updates, set preview pics and more!