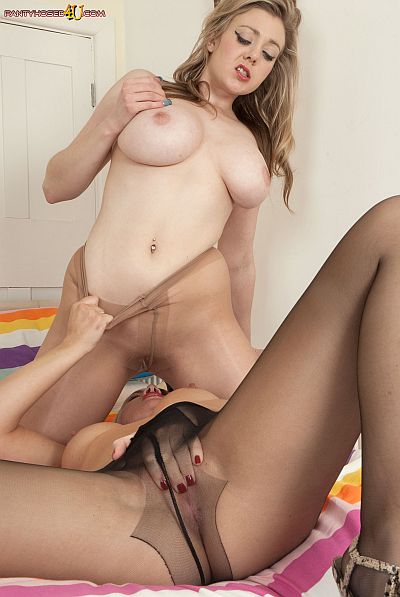 Frankie had been admiring Sapphire's legs and sexy bum all evening while they were out clubbing, and by the time they arrived home they were both in the mood for some hot pantyhose sex.
Their excitement had been building up all evening, so they went straight up to the bedroom and quickly stripped each other out of their dresses and got on the bed.
Frankie went down of Sapphire and licked her cunt through the sheer nylon pantyhose crotch, then licked her friend's tits as she fondled Sapphire's nyloned pussy thorough the front of her hose.
Both girls then got into a scissor like position and rubbed their nyloned crotches together, grinding their hips in a simultaneous motion that made their pantyhosed pussies hot and moist.
With hands down the front of their pantyhose they then lay back with legs open and masturbated with vibrators applied against their throbbing cunts and clitorises.
Ripping their pantyhose to shreds and exposing their naked cunts, they masturbated and rubbed their pantyhosed legs and naked pussies together in an orgy of pantyhose ripping sex.
Get our superb Vintage Flash newsletter each week - all the latest model info, updates, set preview pics and more!