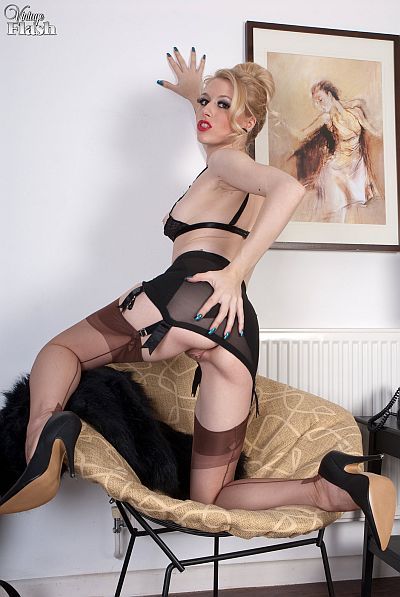 Undercover agent Michelle receives a phone call with instructions that she must strip down to her nylon stockings and masturbate, or her secrets will be exposed!
It's better that she obeys the demands of the stranger on the phone than get her cover blown completely, so she readily complies.
Removing each garment of clothing as instructed, Michelle strips down to her cup-less bra, girdle and brown full-fashioned nylon stockings.
Running her hands over her seamed stockinged legs, Michelle describes in detail what she is wearing to the stranger. Then letting him know she is not wearing panties, she spreads her nyloned legs and begins to play with her bare naked snatch.
Placing the phone on the table top so the listener can hear, Michelle then slips two fingers in her honey pot and gives it a stir, making sure wet sticky sounds can be heard as she vigorously masturbates.
Michelle slaps her wet cunt and sucks the juices from her finger tips, then rubbing her hot pink clitoris, she makes sure the listener hears everything as she orgasms hard and loud.
Get our superb Vintage Flash newsletter each week - all the latest model info, updates, set preview pics and more!