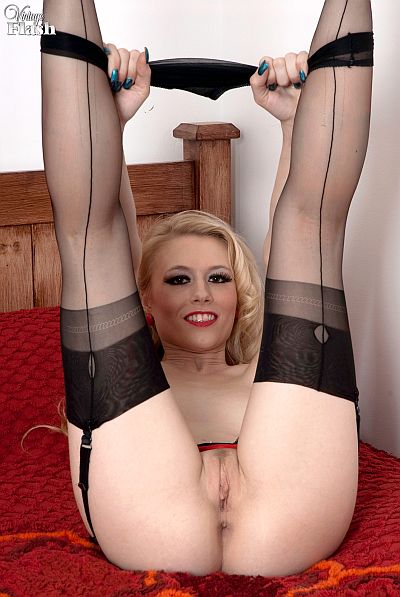 Dressed in a tight leather skirt, nylon stockings and stiletto heels, horny blonde Michelle does a naughty striptease, then lets you watch as she masturbates with her fingers up her tight pussy in her latest video at Vintage Flash.
There is nothing quite a sexy as a pretty girl in a low cut gingham top, a tight leather pencil skirt, full-fashion stockings and sexy red stiletto heels to get your pulse racing.
'Are you catching a view of those stockings tops?' Michelle asks, pulling back the hem of her leather skirt and raising her stockinged legs upwards.
Michelle unzips her leather skirt and wiggles her ass as she pulls it over her buttocks, revealing the black sheer nylon panties and red-black lacy suspender belt she is wearing underneath.
"What are you going to do with me, now?' Michelle asks, after stripping off her sheer nylon knickers and spreading her stockinged legs wide open in wanton invitation. 'I bet you'd love to come and fuck me like this, wouldn't you?'
Kneeling on the bed with her ass raised upwards, Michelle pulls at the cheeks of her arse to expose the puckered ring and the opening of her gaping pussy. She then then inserts several fingers up her hot tight snatch and stirs them inside the walls of her wet, sticky hole.
Vigorously masturbating with one hand rubbing her clitoris, she shoves her fingers knuckle deep in her throbbing cunt and gasps with pleasure as she reaches her hot, intense climax.
Get our superb Vintage Flash newsletter each week - all the latest model info, updates, set preview pics and more!