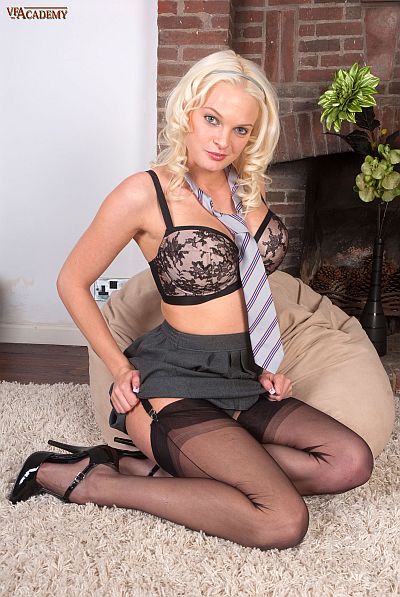 Kelly was so fed up of doing homework and really needed time out to relax, so she tossed her books aside and decided to play with her extra large dildo.
Sitting on the bean bag she opened her legs to give an upskirt view of her white cotton panties, and ran her hands over her slender legs in sheer, black nylon stockings. Stripping off her blouse revealed she was wearing a very sexy lace bra, which she then unhooked to uncover her big tits with their perky nipples already erect with arousal.
Kelly felt her pussy through the tight cotton gusset of her panties, before slipping her hand inside her knickers to give her pussy a proper rub. Her hand moved rapidly behind the front of her cotton pants as she frigged herself off for awhile.
Hooking her thumbs into the waistband of her knickers, she lifted her bum and pulled them out from under her ass. She then rolled her knickers down her seamed stockinged legs and removing them over her heels, she held them up to her nose for a quick sniff before tossing them to one side.
Laying back with her legs apart, she spread the lips of her pink juicy quim then pressed the head of her big dildo against the moist opening of her fuck hole. Holding the huge cock like object, she pushed it inwards and it slipped with ease up her tight, lubricated cunt. Kelly set the dildo to vibrate and worked the thick shaft up her tight hole, stretching the walls of her hot little cunt as she fucked herself to an intense orgasm.
Get our superb Vintage Flash newsletter each week - all the latest model info, updates, set preview pics and more!