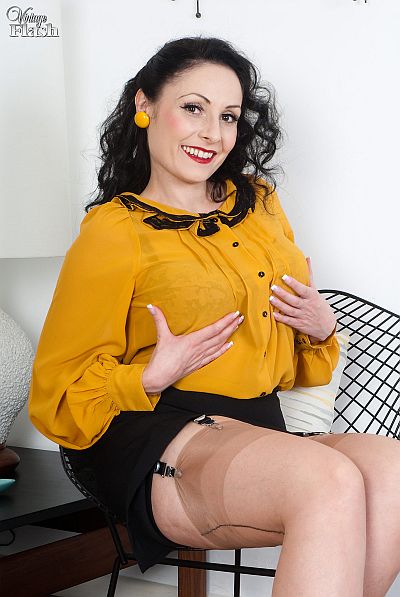 Sophia had just got ready to go out into town to meet some friends for coffee, but dressing in her lovely new outfit made her feel quite horny, so she decided to stay awhile and have a play with herself.
Sophia ran her hands over the curves of her figure, admiring how prominent her voluptuous breasts looked under her sexy nylon blouse and how the tight pencil skirt clung to her shapely ass. She had selected to wear some real vintage black foot nylons, and completed her outfit with some shiny, patent leather heels, which altogether made her legs look fabulous.
Reclining in a chair so that the hem of her skirt moved up over her thigh, she revealed the array of metal suspender clasps that were attached to to tops of her tan nylon stockings. Slipping her hand under the welt of her nylons she stroked the naked flesh of her thigh, making her suspenders pull even tighter on her stocking tops.
Sophia removed her skirt and bent over to give a view of her seamed stockings and gave her ass a feel through the tight, silky, black panties that fit snugly around her buttocks. Then undoing her blouse she let it slide down her arms to reveal she was wearing a saucy black bra with lacy cups that uplifted and held her natural tits firmly in place. Slipping the straps of her bra over her shoulders she held the cups in place and gradually uncovered her boobs, then playfully squeezed the soft, fleshy mounds in her hands.
Sophia bent over once more and pulled her black panties all the way down to her heels, then ran her hands up her legs in thrilling, seamed nylon stockings. Discarding her panties to one side, she sat with her legs apart and massaged the fleshy petals of her pussy which were wide open with arousal. Then inserting several fingers up her gaping cunt, she simultaneously rubbed the tender flesh of her hot clitoris and built up her pleasure to a achieve a satisfying orgasm.
Get our superb Vintage Flash newsletter each week - all the latest model info, updates, set preview pics and more!