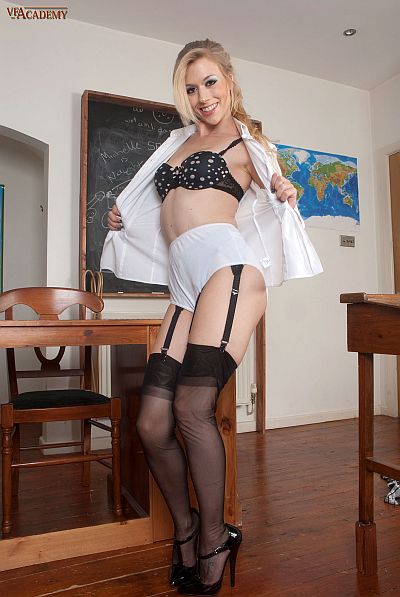 Michelle had been lifting her skirt and flashing her panties, stockings and suspenders at some workmen who were busy with laying some new drainage in the academy grounds. Her daring encounter with the rough workmen, who clearly enjoyed looking right up her skirt as they stood in the trench below and encouraged her to be naughty, has left her feeling rather horny.
Now in detention, Michelle decides she needs to amuse herself and stripping off her plaid tunic, crisp white school shirt and polka dot bra, she climbs up on the desk and keels so that her white cotton panties stretch around the cheeks of her arse.
Michelle then hooks her thumbs into the elastic waistband of her panties, then stands to pull them down her legs in her black, seamed nylon stockings and shiny patent heels. Sitting back on top of the desk, she raises her panties to her nose to give them a sniff, then spreads her stockinged legs and rubs them over the lips of her naked, moist pussy.
'I love to play with my pussy, rub my lips and stroke my swollen clit,' Michelle says, leaning back on the desk and sliding her fingers up and down the slit of her exposed cunt. 'If only teacher could see me now, being so naughty on her desk,' she adds, splaying the lips of her cunt wide open with her fingers.
Michelle teases the swollen nub of her clitoris, which looks hot and erect as she rubs it vigorously between her fingers. Then sitting sideways on the desk so her arse is almost over the edge, she reaches behind and slips her fingers knuckle deep inside her cunt to give herself an intense climax.
Get our superb Vintage Flash newsletter each week - all the latest model info, updates, set preview pics and more!