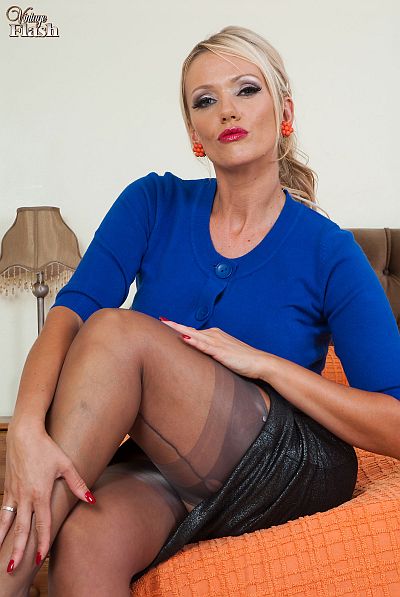 Lucy is in a dominating mood today and needs a man who is willing to get down on his knees and worship her legs in full-fashioned nylon stockings and heels? Are you ready to submit to her demands and be her 'little stocking boy'? Then let's begin…
'Why don't you start by checking my seams,' Lucy suggests, leaning over and running a finger along the seam of her nylons, from ankles to the tops of her stockinged thighs. 'Are they straight, or do you need to adjust them for me?' She wonders, teasing you with the prospect of helping her straighten them up.
Lucy then sits on the edge of the bed with her legs crossed and suggests you watch as she pushes her hand between the top of her stockings and the bare flesh of her thigh. 'You like that don't you,' she says, playfully sliding her fingers under the tops of her nylons, then reaches down to slip off one heel and let it dangle from her foot. 'Maybe I should get you to massage my nyloned feet for me or suck on my toes,' she says, lifting her foot up so you can see the seam running under the nylon soles. 'Go on, stick them right in your mouth and taste them for me!'
Lucy then stands to give a rear view as she slides her tight dress over her buttocks to reveal she is wearing a figure hugging, white corselette, with taut suspenders that stretch over her thighs and pull on the top of her fully-fashioned nylons.
'I order you to get between my legs and start licking my pussy,' Lucy commands, now laying on the bed holding the lips of her juicy cunt wide open in invitation. 'Tell me how sweet and juicy it tastes as you lick your tongue right inside me!'
Are you ready to obey the commands of your beautiful nylon mistress while she exquisitely teases you in her stockings and suspenders? Can you hold back your cum long enough while she makes you suck on her big breasts and juicy pussy? Lucy is waiting for you to service her needs right now…
Get our superb Vintage Flash newsletter each week - all the latest model info, updates, set preview pics and more!