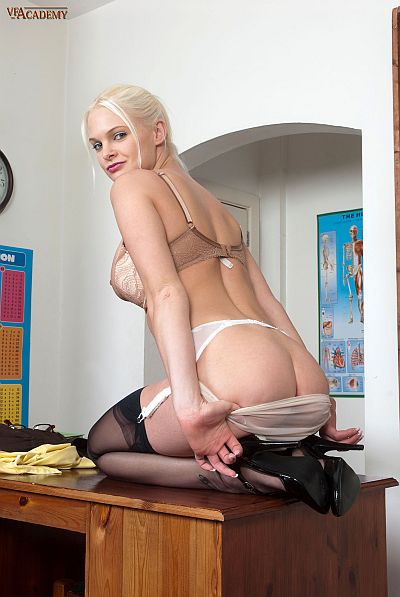 It's only the start of term and Kelly is back in detention alreday and is to receive a caning at the end of the day. Not that she is much bothered about having to pull down her knickers, bend over the teacher's desk and and receiving six strokes of the cane across her bottom. In fact she's quite looking forward to it.
'Detention is my favourite place to be, this arse is just waiting for a good spanking' Kelly says, lifting her skirt to reveal her seamed nylon stockings, suspenders and slapping her hand over her bum cheeks in white nylon panties.
Kelly is feeling decidedly horny as she awaits her punishment in the detention classroom, thinking about all the horny things she'd been caught doing earlier behind the bike sheds with those boys from the local college.
'Sucking their cocks with my lovely mouth wrapped around their bell ends and tasting their cum in my mouth has made me feel quite horny,' Kelly recalls, as she holds up her skirt up and rubs her hot cunt through the front of her sheer nylon knickers.
Kelly sits on the desk with her stockinged legs open and gives an upskirt view of her panties. Then undoing her shirt she pulls down the cups of her bra to rub the pert buds of her erect nipples with her fingers.
Having removed her pleated skirt she pulls her knickers down her legs, and leaving them stretched around her stockinged thighs she bends over the desk and gives her juicy cunt a good frigging!
Get our superb Vintage Flash newsletter each week - all the latest model info, updates, set preview pics and more!